Blog
The team behind SpanishDict.com is excited to launch Fluencia, the easiest way to learn Spanish online. 
As a valued member of the SpanishDict community, you can get an early look and help us spread the word:
1) Join Fluencia Now to experience it for yourself;
2) Connect with us on Facebook, Twitter, and Google+ for insider updates, and;
3) Share the news!
Fluencia builds on the latest research in second-language acquisition and uses:
• Spaced repetition: Improving long-term retention up to 200 percent;
• Personalized feedback: Like having a personal tutor every step of the way, and;
• Interactive exercises: Using native-speaker audio, a sleek design, and engaging images.
The rich curriculum in Fluencia covers a year's worth of college Spanish.  Fluencia was developed by a team of professors led by Dr. Cristina Sanz, Language Program Director for Spanish and Co-Director of the Center for the Brain Basis of Cognition at Georgetown University.
Fluencia incorporates the most important findings in second language acquisition to help people learn and retain Spanish," according to Dr. Sanz.  "Fluencia uses personalized feedback, spaced repetition, and a functional focus, all of which have been shown to help you learn more effectively."
Learners using Fluencia are already seeing dramatic results.  One of Fluencia's earliest beta users, age 11, has been using Fluencia for just four months. With no prior Spanish knowledge, he tested as well as students with nearly six years of Spanish.
Over the past few months, Fluencia has helped more than 10,000 people learn Spanish, in over 140 countries (and counting).
We're excited to grow Fluencia and help even more people around the world achieve their goals.
Thank you for your support!
Muchas gracias,
Chris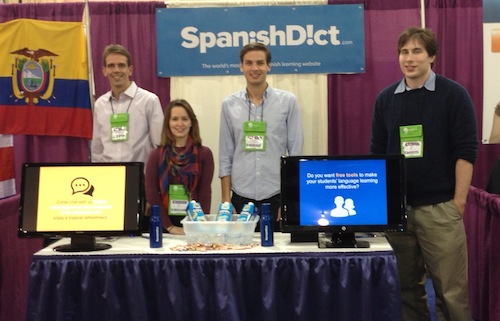 This past weekend, four members of the SpanishDict team traveled to Philadelphia, Pennsylvania to participate in the 2012 American Council on the Teaching of Foreign Languages Convention (ACTFL). The convention is the largest of its kind with thousands of language educators and companies participating from all over the world. 2012 has been an exciting year for us at SpanishDict and the convention was a great opportunity to spread the word about the site and the resources we have to offer when it comes to learning Spanish. 
Aided by free candy and tropical juice, we were able to meet hundreds of teachers who use our website everyday, not just for the sake of their students, but also to increase their own proficiency as well. Nothing makes us happier than learning from educators about how helpful our site is for them and their students. We know that the feedback we heard from them will only make our website even better. While everyone knows about SpanishDict's great Spanish dictionaries and Spanish translators, we also offer a whole host of free tools that can make your language learning far more effective.  From our conjugation tables and mobile apps to our Q&A forum and flashcards, we were delighted to learn how SpanishDict has become an indispensable online Spanish resource for many conference attendees.
All in all, we met great people, spread the word about SpanishDict, learned from educators in the classroom, and were able to talk face-to-face with many users. The 2012 ACTFL Convention was a great time for everyone involved on the SpanishDict Team.
Thank you to everyone who took the time to fill out our survey and have their voice heard.  We received thousands of responses from all over the world and got invaluable feedback to improve the site. 
Congratulations to the Amazon.com gift card winners Kait N. from Arizona and Ira B. from Connecticut!
We will use everyone's thoughts to help shape our product development going forward and prioritize where we focus our resources.
In just over a week since launching the new site, we've made tons of improvements.  If you see anything else we should look into, please report it using the Feedback tab on the right.  Due to limited resources we cannot implement each change, but we promise we will read and fully consider every message.
Going forward, we will continue our efforts to bring you the best Spanish reference and language learning materials on the Internet.
Thanks for all your feedback and for using our site!
Saludos,
The SpanishDict Team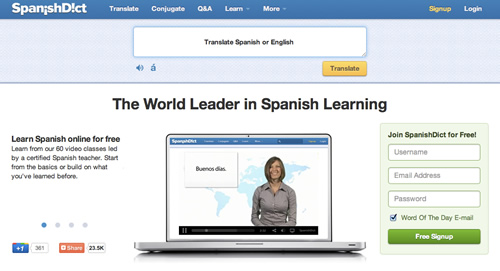 We are proud to introduce a redesigned and much-improved version of SpanishDict.com! In our newest version you'll find:
A complete, unabridged dictionary with hundreds of thousands of new translations, examples, and phrases.
One super-search box to search the dictionaries and translate sentences.
A streamlined, more intuitive design that is easier to use.
A new Spanish Grammar section with over 100 clear, concise explanations and interactive grammar quizzes with over 4,000 questions to help you master each skill.
Screenshot of the new grammar quizzes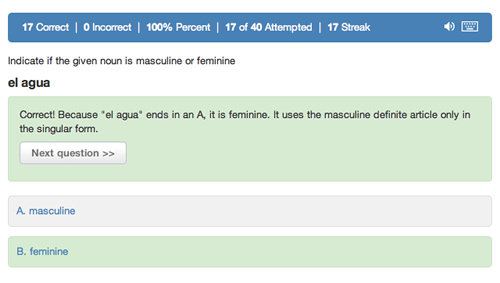 We have made hundreds of other small improvements, highlights include:
More powerful lookup: our super-search box recognizes thousands of word variations and points you to the correct entry.
Try searching for conjugated verbs like "fuiste", tricky prepositions like "la", or full phrases like "this is cool" and you'll find the best results available online.
Double-click to quickly translate a word throughout the site.
Easier social sharing of dictionary, conjugation, and other pages.
Cursor is automatically placed in the search box when the page loads.
Audio pronunciations of words that are entered into the translate box.
Direct links to content from the homepage when you are logged in.
Simplified navigation bar.
Audio pronunciation for phrasebook entries.
English verb conjugations.
Feedback tab to easily send in comments.
We hope you like the new site. If you have any suggestions, find any bugs, or just want to send us a message, click the "Feedback" tab on the right and drop us a line.
¡Saludos!
The SpanishDict Team
We are happy to announce a powerful new translation tool for numbers, dates, and symbols.
Learning how to translate numbers and dates can be difficult. Traditional dictionaries and translation tools have always come up short—only showing the translations for a few numbers, leaving people to puzzle over the proper translation for larger numbers, dates, and symbols. With SpanishDict's intelligent translation box, it is now simple. Just type in the date, time, number or symbol and you will receive translations in both Spanish and English.
You can try these examples:
5:00pm - A las cinco de la tarde
4th - el cuarto
173- ciento setenta y tres
:-) - sonrisa
06-30-2012 - el sábado, el treinta de junio, dos mil, doce
The range of the new translation tools is impressive. SpanishDict is equipped to handle numbers from −999,999,999,999,999 to 999,999,999,999,999. You can also get full translations on a wide spectrum of decimals, dates, times, common symbols and even smilies :). To get started, just use the following formats:
Numbers: ###,###.##
Dates: MM-DD-YYYY
Time: HH:MMpm
We hope you enjoy the new functionality! Check out a fun little video too!
We are very excited today to launch the world's first Spanish-English Video Dictionary, featuring video translations for more than 5,000 of the most popular words and phrases in the Spanish language.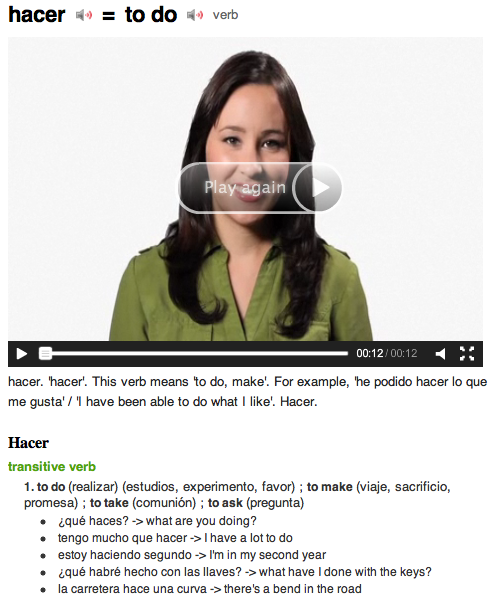 Learning a new language is best when you have access to both audio and visual features, teaching you exactly how to position your mouth when you form a word. The content for each video is based on common phrases you would hear or read while traveling in a Spanish speaking country like "te quiero," "acomodar," and "alquilar."
Key features of the new dictionary feature include:
* HD Video; Studio Quality Audio
- Each video was filmed with high quality, HD video to provide a close-up visual reference of how a native speaker pronounces each word. Add URL for HD video.
* Native Spanish Speaker Pronunciations
- Both quick and slow pronunciation of each word to demonstrate proper pronunciation.
* Contextual Example Sentences
- Full sentences in both Spanish and English to ensure accurate and proper translations.
* Usage Information
- Every video includes the part of speech, gender, and usage tips
We hope you enjoy this new learning resource and that it helps you in perfecting your own Spanish pronunciation. We'd love to hear what you think!
Overview
The SpanishDict Community Phrasebook allows members to create entries for compound words and phrases that are not currently included in the dictionary. Use it as a great resource to contribute idioms, technical jargon, and even slang. Our goal is 5,000 phrases in 6 months. Can we do it?
Suggest a Phrase
Know a phrase in English or Spanish and want to know how to translate it? Suggest the phrase and let a native speaker fill in the rest of the details. When your phrase gets published, you earn the Phrasebook Contributor badge just for helping out!
Add New Entry
If you know both the English and Spanish for a phrase that is not already in the dictionary, tell us! You can also provide examples, context, regional information, and any additional notes you may know about the phrase.
Top Quality Entries
We've appointed a few new moderators around here to help out all our new members (over 225,000!) and to make sure the phrases that represent the SpanishDict community are top quality. Each phrase submitted needs the approval from two moderators before it is included in the official SpanishDict Community Phrasebook.
Integration into the Dictionary
Once a phrase has been approved and is included in the official SpanishDict Community Phrasebook, it will also appear on dictionary entry pages that include that word. So if you look up "snooze" in the dictionary, you will also see "You snooze, you lose" on the same page.
We hope you enjoy (and use!) the new SpanishDict Community Phrasebook. Our members have such an enthusiasm for learning and teaching Spanish and English, that I have no doubt we'll have the best Phrasebook on the internet in no time!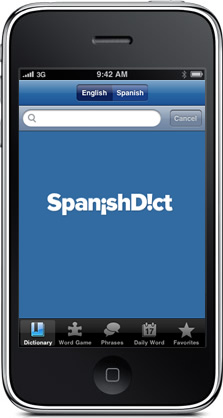 Now you can take SpanishDict with you anywhere in the world! No need to be connected to the internet to have access to our complete dictionary, a talking phrasebook, an interactive vocabulary game, the word of the day, and your very own favorites list. And of course, it's all free!
Browse the full version of our Spanish-English dictionary with the same features you love on the web: multiple definitions, auto-suggest as you type, and audio pronunciations without ever having to be connected to the internet.
The phrasebook includes over 700 phrases and words with audio pronunciations by native Spanish-speakers and both the English and Spanish translations. This is a priceless tool when you are traveling and need to know how to ask "Do you have double rooms?" at a hotel or "Would you like to dance?" to that cutie at the dance club.
The word game is surprisingly addictive for Spanish-speakers of all levels, from beginner to native. The game gives you the word and the pronunciation by a native speaker, and you just have to choose the correct translation. The more words you get right, the harder they become. See if you can get all the way to level 15!
And don't worry about missing the word of the day if you are away from the internet either. There is a complete set of word of the day entries right there in the app! You can even add your favorite words to your "Favorites" to remember for later or simply to email to yourself.
We are super excited about this new app and how it give you so many more resources for learning and practicing Spanish. You can download it from the iTunes app store. We hope you enjoy it and if you do, please tell your friends and leave positive feedback on the app page in iTunes.
You can now access SpanishDict from your cell phone! SpanishDict Mobile's slimmed down interface packs a lot of punch: you can lookup words in the dictionary, translate phrases, and conjugate verbs—all from a single search box. Whether you're at the supermarket and want to translate Spanish ingredients, or you want to tell your girlfriend's Spanish-speaking mother what a lovely home she has, you can use SpanishDict Mobile for your Spanish translation needs wherever you are.
SpanishDict Mobile is optimized for your cell phone to present Spanish translations in the clearest, fastest format possible. Here are some of the SpanishDict features you know and love that you can now find on SpanishDict Mobile:
Word definitions, phrase translations, and verb conjugations that are all available by searching in one single bar
Quick translations are available for thousands of words
Jump-to conjugations for any verb that appears on the same page as its definition, so there's no need to click to another page
Super fast phrase translations
The ability to return to the full version of SpanishDict by clicking the link on the bottom of our mobile homepage, just in case you still can't find what you're looking for
We hope that SpanishDict Mobile helps make Spanish learning and translation more convenient than ever. Simply visit SpanishDict.com from your cell phone to check it out.
Welcome to the new SpanishDict.com! We are delighted to announce the release of the new SpanishDict.com. With over 100 improvements to the site, we are breaking down the barriers to learning Spanish. It is now easier than ever to translate words in our comprehensive dictionary, practice vocabulary with our multimedia flashcards, get answers to your questions in the Answers section, and actually learn Spanish with our full-length, professional video courses. Check out the video for a tour of some of the new features.

We hope you enjoy the site and good luck with your Spanish!
New Feature Highlights
Find conjugated verbs - If you enter the word like "fuiste" we will point you to the verb "ir"
Did You Mean? - a powerful algorithm for suggesting the correct spelling of misspelled words
Quick dictionary translations – bold, easy-to-find translations are included right at the top of the page for the most common words
Integrated forum search on the dictionary page – easily find answers relating to your search term
Intelligent auto suggest - dictionary auto suggestions are sorted by popularity making it more likely that your word is suggested
All new answers forum that is faster, prettier, and more helpful
Auto preview your question as you type
Auto-suggested answers as you ask a question
Thumbs up for good questions and answers
Flagging of spam, commercial, and inaccurate posts
Reputation system that unlocks more features as you earn more reputation
Badges system that recognizes great contributions to the site and makes participation more engaging
One-on-one video and text chat that matches you with other users who are looking to practice
Sample conversations that you can use to practice your Spanish
Quick translation tool that translates words and phrases without leaving the page
Compare your writing and speaking responses with new model answer responses
Check the spelling of your response on the Write section of the lessons
Reference articles are intelligently linked to dictionary search results: search for "ser" and we will show you a quick link to the "ser verses estar" article in the reference
Reference articles will improve and expand over time as the top contributors to the site will now have the ability to create and edit articles
There is really a lot more to show off, but I will leave a few surprises for you to discover. Hope you like the new features. Leave your feedback in the comments.