SpanishDict Launches Video Dictionary
We are very excited today to launch the world's first Spanish-English Video Dictionary, featuring video translations for more than 5,000 of the most popular words and phrases in the Spanish language.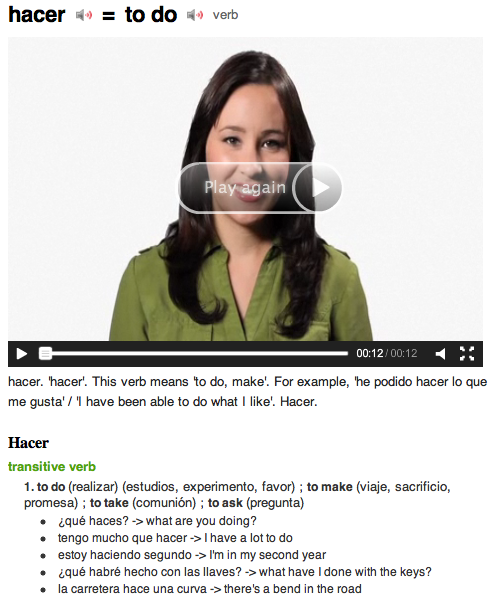 Learning a new language is best when you have access to both audio and visual features, teaching you exactly how to position your mouth when you form a word. The content for each video is based on common phrases you would hear or read while traveling in a Spanish speaking country like "te quiero," "acomodar," and "alquilar."
Key features of the new dictionary feature include:
* HD Video; Studio Quality Audio
- Each video was filmed with high quality, HD video to provide a close-up visual reference of how a native speaker pronounces each word. Add URL for HD video.
* Native Spanish Speaker Pronunciations
- Both quick and slow pronunciation of each word to demonstrate proper pronunciation.
* Contextual Example Sentences
- Full sentences in both Spanish and English to ensure accurate and proper translations.
* Usage Information
- Every video includes the part of speech, gender, and usage tips
We hope you enjoy this new learning resource and that it helps you in perfecting your own Spanish pronunciation. We'd love to hear what you think!
Comments
To add a comment, please Login