SpanishDict Releases Free iPhone App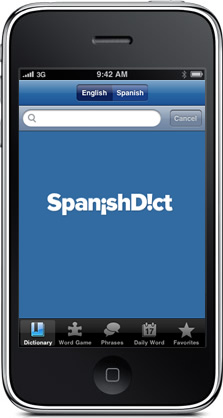 Now you can take SpanishDict with you anywhere in the world! No need to be connected to the internet to have access to our complete dictionary, a talking phrasebook, an interactive vocabulary game, the word of the day, and your very own favorites list. And of course, it's all free!
Browse the full version of our Spanish-English dictionary with the same features you love on the web: multiple definitions, auto-suggest as you type, and audio pronunciations without ever having to be connected to the internet.
The phrasebook includes over 700 phrases and words with audio pronunciations by native Spanish-speakers and both the English and Spanish translations. This is a priceless tool when you are traveling and need to know how to ask "Do you have double rooms?" at a hotel or "Would you like to dance?" to that cutie at the dance club.
The word game is surprisingly addictive for Spanish-speakers of all levels, from beginner to native. The game gives you the word and the pronunciation by a native speaker, and you just have to choose the correct translation. The more words you get right, the harder they become. See if you can get all the way to level 15!
And don't worry about missing the word of the day if you are away from the internet either. There is a complete set of word of the day entries right there in the app! You can even add your favorite words to your "Favorites" to remember for later or simply to email to yourself.
We are super excited about this new app and how it give you so many more resources for learning and practicing Spanish. You can download it from the iTunes app store. We hope you enjoy it and if you do, please tell your friends and leave positive feedback on the app page in iTunes.
Comments
To add a comment, please Login