#4 - Empezar + a + infinitivo - Weekly perífrasis verbales: Practice Exercise
4 - Weekly 'perífrasis verbales': Practice Exercise: Empezar + a + infinitivo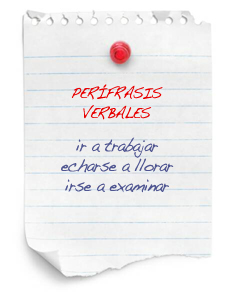 A 'perífrasis verbal' is a structure with a helping verb plus an 'infinitivo' or a 'gerundio'.
More info on perifrasis verbales: Link to learn more on this subject
Explanation link in English from Lazarus
Let's practice a few of these in simple sentences. Here are the rules:
1.One sentence per post.
2.Use the 'perífrasis verbal' for this week in a sentence in Spanish. Then write it in English.
3.You may post one image to illustrate your sentence.
SilviaC will be the corrector for the Spanish. I will help out on the English. ++++++++++++++++++++++++++++++++++++++++++++++++++++++
Una "perífrasis verbal" tiene una estructura con un verbo auxiliar y un "infinitivo" o "gerundio".
Vamos a practicar un poco estas estructuras en oraciones simples. Estas son las reglas:
1.Una oración por respuesta
2.Usa la perífrasis verbal escogida para esta semana y escribe una oración con ella en español y en inglés
3.Puedes usar una imagen para ilustrar tu respuesta
SilviaC será la correctora de español. Yo ayudaré con el inglés
La perífrasis verbal de hoy es "empezar + a + infinitivo"
beginning to ____________________.
Example / Ejemplo
Los jóvenes empiezan a correr para sus salud.
The youth start to run for their health.
link if you missed last week's practice - tener + que + infinitivo
8 Answers
Ayer empecé a hacer ejercicio en la mañana cuando estaba desmasiado oscura para una fotografía.
Yesterday I began to exercise in the morning when it was too dark to take a picture.
Vote
Unvote