Personalities (people) of our countries.
24590 views
updated JUN 8, 2011
edited by Carlos-F
posted by Carlos-F
I like the idea :)
- Issabela, MAR 26, 2010
Su poesía es una de mis favoritas, junto con Benedetti :))
- Benz, MAR 26, 2010
25 Answers
Lech Wa??sa, nació el 29 de septiembre de 1943, es un político polaco, antiguo sindicalista y activista de los derechos humanos, además de ex electricista. El líder carismático, fue cofundador de Solidaridad (Solidarno??), el primer sindicato independiente del bloque soviético, ganó el Premio Nobel de la Paz en 1983, y fue Presidente de Polonia de 1990 a 1995. Una persona famosa fuera de Polonia, pero muy controvertida en mi país.
.
Lech Wa??sa, born on 29th September 1943, is a Polish politician and trade-union and human-rights activist and ex-electrician. A charismatic leader, ex electrician, he co-founded Solidarity (Solidarno??), the Soviet bloc's first independent trade union called Solidarity (Solidarno??), won the Nobel Peace Prize in 1983, and served as President of Poland from 1990 to 1995. A well-known person outside Poland, but very controversial in my country.
.
.
.
updated MAR 27, 2010
posted by Issabela
Efectivamente es un personaje muy conocido en el mundo, especialmente en el ambiente político...
- Carlos-F, MAR 26, 2010
Jaime Escalante Born in Bolivia
Jaime Escalante (born December 31, 1930) is a professor and teacher of mathematics who gained renown and distinction for his work at Garfield High School in Los Angeles, California in teaching students calculus from 1974 to 1991.
Jaime Escalante nacio en diciembre 31 ,1930 es un docente y un maestro de matematicas que gano renombre y distincion por su trabajo en la escuela secundaria de Garfield en Los Angeles , California enseñando calculo a estudiantes 1974 a 1991
updated MAY 13, 2011
posted by ninozka
I saw the film about Jaime Escalante - and loved it. Can't remember what is was called though.
- ian-hill, MAR 27, 2010
Great teachers are among our most treasured of people.
- ian-hill, MAR 27, 2010
The film is called "Stand and Deliver", I show it to my students every year. Great man!!
- Jason7R, MAR 27, 2010
Thanks Jason
- ian-hill, MAR 27, 2010
William Shakespeare (April 1564 (date unknown) - 23 April 1616) was an English poet and playwright born in Stratford-upon-Avon.
Often called the 'Bard', Shakespeare is regarded as one of the greatest writers in the English language. His surviving works consist of 38 plays, 154 sonnets and several poems. He was respected in his own day, but his reputation did not grow to its current status until the nineteenth century. His plays have been translated into every language, and are regularly performed worldwide.
---
William Shakespeare (abril 1564 (fecha desconocido) - 23 abril 1616) fue un inglés poeta y dramaturgo nació en Stratford-upon-Avon.
A menudo conocido como 'el Bard', Shakespeare es considerado como uno de los más grandes escritores en el idioma inglés. Sus obras que sobreviven consisten de 38 obras de teatro, 154 sonetos y varios poemas. Fue respetado en su propio tiempo, pero su reputación se creció más en el siglo 19. Sus obras de teatro han sido traducido al cada idioma, y son regularmente realizado en todo el mundo.
I'm not sure how to attach a photo?!
updated ABR 10, 2010
edited by melipiru
posted by torrontes75
I hope you don't mind
- melipiru, MAR 26, 2010
I was just about to do the same thing, hehe.
- Eddy, MAR 26, 2010
Perfect - thank you!
- torrontes75, MAR 26, 2010
If anyone has an original Shakespeare signature - let me know first. :)
- ian-hill, MAR 27, 2010
This post is not about a country (and I hope Carlos F. is willing to accept this).
I'm from Southeast Asia, so I want to describe Southeast Asian personalities.
For a well-known person of war-time, I want to tell you about Võ Nguyên Giáp. He is the most important general of Vietnamese people to defend the country in 2 wars against the conquerors from France and the US. Moreover, with the victory at the battle of ?i?n Biên Ph?, he has been well-known throughout Africa and Latin America with the defeat of colonialism.
For a famous person of peaceful time, I want to tell you about Lee Kuan Yew. He was Singaporean Prime Minister for 31 years (and also the first one). He is famous for transform Singapore from a a underdeveloped colony into an Asian Tiger. Lee has often stated that Singapore's only natural resources are its people and their strong work ethic. He is one of the most talented leaders in Southeast Asia as well as in the world.
updated MAR 27, 2010
edited by Fidalgo
posted by Fidalgo
Por cierto todos importantes personajes...
- Carlos-F, MAR 26, 2010
No doubt, Lee was a great leader, I always admire his work for Singapore.
- Krama, MAR 26, 2010
Thank you all for good comments
- Fidalgo, MAR 26, 2010
Jorge Francisco Isidoro Luis Borges (Buenos Aires, 24 de agosto de 1899 – Ginebra, 14 de junio de 1986) fue un escritor argentino, uno de los autores más destacados de la literatura del siglo XX. Publicó ensayos breves, cuentos y poemas. Su obra, fundamental en la literatura y en el pensamiento humano, ha sido objeto de minuciosos análisis y de múltiples interpretaciones.
.
---
.
Jorge Francisco Isidoro Luis Borges Acevedo (August 24, 1899 – June 14, 1986), best known as Jorge Luis Borges (Spanish pronunciation: [?xorxe ?lwis ?borxes]), was an Argentine-English writer, essayist, and poet born in Buenos Aires. In 1914 his family moved to Switzerland where he attended school and traveled to Spain. On his return to Argentina in 1921, Borges began publishing his poems and essays in surrealist literary journals. He also worked as a librarian and public lecturer. In 1955 he was appointed director of the National Public Library (Biblioteca Nacional) and professor of Literature at the University of Buenos Aires. In 1961 he came to international attention when he received the first International Publishers' Prize, the Prix Formentor. His work was translated and published widely in the United States and in Europe. Borges himself was fluent in several languages. He died in Geneva, Switzerland, in 1986.
updated MAR 27, 2010
posted by Benz
Grande Borges...
- Carlos-F, MAR 26, 2010
Born: Paul David Hewson, in Dublin Ireland May 10th 1960. Commonly known as Bono the lead singer for the Irish band U2. Also known for his social activism and humanitarian support. He has been nominated for a Nobel Peace Prize and has been granted an honorary Knighthood by Queen Elizabeth.
Nacido: David Hewson Pablo, en Irlanda Dublín 10 de mayo 1960. Comúnmente conocido como Bono el cantante de la banda irlandesa U2. También conocido por su activismo social y apoyo humanitario. Ha sido nominado para un Premio de la Paz de Nobel y ha sido otorgado una Caballería honoraria por Reina Elizabeth.
---
Bono is shown here with President Lula da Silva of Brazil in 2006
updated MAR 27, 2010
edited by MattM
posted by MattM
God!!!! I love Bono!!!!!!!!!!!!!!!!!!!!!!!!!!!!!
- Benz, MAR 26, 2010
I am glad someone does. :)
- ian-hill, MAR 26, 2010
Carl Sagan (United States, 1934-1996) was an astrophysicist that helped to popularize science through his books and the popular television series "Cosmos."
Carl Sagan (Los Estados Unidos, 1934-1996) fue un astrofísico que ayudó a popularizar la ciencia por sus libros y la serie de televisión popular "Cosmos."
updated MAY 13, 2011
posted by 008f2974
Astrophysics is great
- Fidalgo, MAR 27, 2010
I loved his TV stuff.
- ian-hill, MAR 27, 2010
I'm surprised by how few Americans have been posted. There are so many it is hard to choose, so I'll limit myself to my favorite 3 presidents (in no particular order), with a couple choice quotes from each to accompany:
Thomas Jefferson:
"I believe that banking institutions are more dangerous to our liberties than standing armies."
"We in America do not have government by the majority. We have government by the majority who participate."
"I would rather be exposed to the inconveniences attending too much liberty than to those attending too small a degree of it."
Abraham Lincoln
"But, in a larger sense, we can not dedicate -- we can not consecrate -- we can not hallow -- this ground. The brave men, living and dead, who struggled here, have consecrated it, far above our poor power to add or detract. The world will little note, nor long remember what we say here, but it can never forget what they did here." - The Gettysburg Address, November 19, 1863
"I am a firm believer in the people. If given the truth, they can be depended upon to meet any national crises. The great point is to bring them the real facts."
"Nearly all men can stand adversity, but if you want to test a man's character, give him power."
Franklin D. Roosevelt:
"First of all, let me assert my firm belief that the only thing we have to fear is fear itself - nameless, unreasoning, unjustified terror which paralyzes needed efforts to convert retreat into advance."
"Repetition does not transform a lie into a truth."
"A conservative is a man with two perfectly good legs who, however, has never learned to walk forward."
updated ABR 10, 2010
edited by Morethan3words
posted by Morethan3words
Love it more than ever - Good addition to the thread.
- ian-hill, MAR 27, 2010
F D R is my favourite.
- ian-hill, MAR 27, 2010
As I know, 3rd president (Jeff) wrote the Declaration of Independence, 16th (Lincoln) was the first of the Rep party, 32nd (Frank) had the longest term of presidency
- Fidalgo, MAR 27, 2010
But none of them appears in U$100 bill
- Fidalgo, MAR 27, 2010
Excellent points, Fidalgo, but those are not necessarily what each one is known for. Lincoln freed the slaves and lead the country through the Civil War. FDR Lead the country through the Great Depression and World War II.
- Morethan3words, MAR 29, 2010
I said I would do this thread when I found out how to put in pictures.
Well, just to prove I have I have put in quite a lot.
I think people more than symbols define a nation.
So here are some of my favourites.
I will add more detail when I have worked out the Spanish as well as the English.
Winston Churchill - Politician and Nobel prize winner for literature
Tim Berners Lee - inventor of the World Wide Web
Stan Laural - Part of the Laural and Hardy (Gordo y Flaco) comedians
William Shakespeare - You all know him for sure
Louis Carrol - Writer (Alice in Wonderland)
Issac Newton - Scientist and mathematician
Charles Dickens - Writer / Social Commentator
The Beatles - You all know them
Queen Victoria
J Swan - Inventor of the electric light bulb
John Harrison - Inventor of the clock that allowed ships to know where they were on the oceans
Isambard Kingdom Brunnel - Britain's most famous civil engineer
Florence Nightingale - Inventor of modern nursing practices
Queen Elizabeth 1st
Charlie Chaplin - Comedian
H G Wells - Writer of Science fiction.
updated ABR 10, 2010
edited by ian-hill
posted by ian-hill
I wonder if our browsers are causing the photo problems. My work laptop is still running Internet Explorer 6. I'll have to try this on my home PC.
- 008f2974, MAR 26, 2010
A great country :-)
- Fidalgo, MAR 27, 2010
You forgot Beckham!!
- torrontes75, MAR 27, 2010
King Arthur, Merlin, Richard the Lionheart, Henry Tudor, Queen Liz 2nd, Horatio Nelson, King William 4rd
- Fidalgo, MAR 27, 2010
About Premier League, I think Sir Bobby Charton is greater than Beckham
- Fidalgo, MAR 27, 2010
I didn't "forget" Beckham Torrontes. Hi Fidalgo I thought my list was long enough, sorry if I missed out some of your favouries.
- ian-hill, MAR 27, 2010
U can download Internet Explorer 8 easily. Why did u do?
- Fidalgo, MAR 27, 2010
? Fidalgo
- ian-hill, MAR 27, 2010
You said that it was Internet Explorer 6.
- Fidalgo, MAR 27, 2010
But I think it's easy for you to download Internet Explorer 8
- Fidalgo, MAR 27, 2010
Did I ? That is strange because I have IE8
- ian-hill, MAR 27, 2010
I think "El Gordo y El Flaco" were the first Spanish words I ever learned.
- 008f2974, MAR 27, 2010
Mary Mackillop (1842-1909) fue una monja católica romana de Australia a quien dedico su vida a la educación de niños pobres y personas sin techos - estableciendo las escuelas a lo largo Australia y Nueva Zealandia. Ella era rebelde y abierta en un tiempo cuando mujeres fueron "vistos y no oidos". Una vez fue excomulgada por "ïnsubordinacion". Mary Mackillop será la primera santo de Australia. Ella será canonizada en Octubre 2010. En muchos maneras Mary fue un mujer muy moderna.
(Mary Mackillop 1842-1909 was a Roman Catholic Nun of Australia who dedicated her life to the education of poor children and the homeless - establishing schools throughout Australia and New Zealand. She was rebellious and outspoken at a time when women were "seen and not heard". One she was "excommunicated" for "insubordination". Mary Mackillop will be Australia's first saint. She will be canonised in October 2010. In many ways Mary was a very modern woman.
(All corrections most welcome
updated MAR 31, 2010
posted by nonombre
Mi autor favorito es Kurt Vonnegut. (Los Estados Unidos, 1922 - 2007)
updated MAR 27, 2010
posted by 008f2974
Now we know that a Kindergarten is running it. :)
- ian-hill, MAR 26, 2010
José Gervasio Artigas (1764-1850) tomó partido por la independencia cuando la Revolución de Mayo (1811) y derrota con su ejército a los españoles en Las Piedras poniendo sitio a Montevideo.
Ante la intervención de los portugueses la diplomacia de Buenos Aires, sin consultar al pueblo oriental acuerda un armisticio con los españoles, cediendole todo el territorio de la Banda Oriental. El pueblo entonces sigue al ejército de Artigas en su retirada hacia el Ayuí, en Entre Ríos (Éxodo del Pueblo Oriental). Cuando se realiza la asamblea de 1813 de las Provincias Unidas, Artigas imparte instrucciones a los delegados orientales para hacer respetar la autonomía provincial. Los delegados son rechazados aduciendo irregularidades en su nombramiento, aunque la verdadera razón es política.
Artigas se rebela contra el centralismo de Buenos Aires, y junto a otras provincias del litoral forma la "Liga Federal", de la que es nombrado "Protector".
Portugal entonces invade la Banda Oriental, y Artigas tiene que encarar la guerra contra esta potencia. Luego de varios años de luchas el ejército de Artigas es diezmado en la batalla de Tacuarembó (1820). La notoria merma de su ejército le hizo perder peso político entre los demás caudillos de la Liga, entrando en un enfrentamiento con el entrerriano Francisco Ramírez. Derrotado Artigas en el norte de Corrientes, se refugia en el Paraguay donde pide asilo y finalmente muere el 23 de setiembre de 1850. Su última voluntad fue morir montado en su caballo.
---
José Gervasio Artigas (1754-1850) supported the indepence when the May Revolution (1811) and defeats the Spaniards with his army in Las Piedras putting in siege the city of Montevideo.
When the Portuguese menace to invade the diplomacy of Buenos Aires, without asking the opinion of the eastern people agrees an armistice with the Spaniards, giving them all the territory of the Eastern Bank. Then the people follows Artigas's army in his retreat to Ayuí river, in Entre Ríos (Exodus of the Eastern People). When the congress of 1813 of the United Provinces, Artigas gives "Instructions" to the Eastern deputees to make respect the provincial autonomy. The deputees are rejected, supossely by irregularities in their election, but the real reason was a politic one.
Artigas rebels against the centralism of Buenos Aires, and creates the "Federal League" among with other provinces, and is given the title of "Protector".
Then Portugal invades the Eastern Bank, and Artigas has to face war against that power. After many years of struggle the Artigas's army is vanquished in the Battle of Tacuarembo (1820). The notorious disminution of his army mades him to lose political power between the other regional leaders of the League, and he soon clashes with the Entrerian Francisco Ramirez. Artigas, defeated in the north of Corrientes, seeks for asylum in Paraguay and finally he dies in September 23, 1850. His last will was to die mounting his horse.
updated MAR 27, 2010
edited by ismarodri_uy
posted by ismarodri_uy
¿He is considered "Father of the Nation" in Uruguay, isn't he?
- Fidalgo, MAR 27, 2010
La historia es tan interesante
- Benz, MAR 27, 2010
Isabel Allende Llona (born August 2 1942) is a Chilean writer. Allende, whose works sometimes contain aspects of the "magic realist" tradition, is one of the best-known women writers in Latin America. She is largely famous for novels such as The House of the Spirits (La casa de los espíritus) (1982) and City of the Beasts (La ciudad de las bestias) (2002), which have been commercially very successful. Allende has been described as "the world's most widely read Spanish-language author."
---
Isabel Allende Llona (nace el 2 de Agosto de 1942) es una escritora chilena. Allende, cuyo trabajo contiene a veces aspectos de la tradición del "realismo mágico", es una de las más conocidas escritoras en Latino América. Es largamente famosa por novelas tales como "La casa de los espíritus" (1982) y "La ciudad de las bestias" (2002), las cuales han sido comercialmente muy exitosas. Allende ha sido descrita como "La autora más ampliamente leída en el mundo en lengua española".
updated ABR 10, 2010
posted by Carlos-F
Leí "Retrato en sepia" y me gustó mucho.
- Issabela, ABR 10, 2010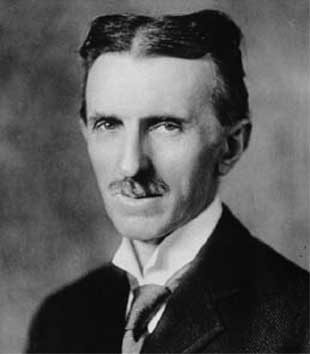 Nikola Tesla Inventor, 1856 - 1943
Nikola Tesla was born at midnight on July 9, 1856, in the village of Smiljan, in the province of Lika, Croatia—then part of the Austro-Hungarian Empire. His father was a Serbian Orthodox priest. His mother descended from eight generations of Serbian Orthodox priests. Tesla was the genius who ushered in the age of alternating-current electrical power.
Tesla had a vivid imagination and an intuitive way of developing scientific hypotheses. After seeing a demonstration of the "Gramme dynamo" (a machine that when operated in one direction is a generator, and when reversed is an electric motor), Tesla visualized a rotating magnetic field and developed plans for an induction motor applying the concept. This electric motor was the first step toward the successful application of alternating-current. Tesla used his imagination to prove and apply his hypotheses. Here is how he explained his creative process:
"Before I put a sketch on paper, the whole idea is worked out mentally. In my mind I change the construction, make improvements, and even operate the device. Without ever having drawn a sketch I can give the measurements of all parts to workmen, and when completed all these parts will fit, just as certainly as though I had made the actual drawings. It is immaterial to me whether I run my machine in my mind or test it in my shop. The inventions I have conceived in this way have always worked. In thirty years there has not been a single exception. My first electric motor, the vacuum wireless light, my turbine engine and many other devices have all been developed in exactly this way."
Tesla completed his elementary education in Croatia. He continued his schooling in the Polytechnic School in Graz and finished at University of Prague. He worked as an electrical engineer in Germany, Hungary and France before emigrating to the United States in 1884.
Arriving in New York City with four cents in his pocket, Tesla found employment with Thomas Edison in New Jersey. Differences in style between the two men soon led to their separation. In 1885, George Westinghouse, founder of the Westinghouse Electric Company, bought patent rights to Tesla's system of alternating-current. The advantages of alternating-current over Edison's system of direct-current became apparent when Westinghouse successfully used Tesla's system to light the World Columbian Exposition at Chicago in 1893.
Tesla established a laboratory in New York City in 1887. His experiments ranged from an exploration of electrical resonance to studies of various lighting systems. To counter fears of alternating-current, Tesla gave exhibitions in his laboratory in which he lighted lamps without wires by allowing electricity to flow through his body.
When Tesla became a United States citizen in 1891, he was at the peak of his creative powers. He developed in rapid succession the induction motor, new types of generators and transformers, a system of alternating-current power transmission, fluorescent lights, and a new type of steam turbine. He also became intrigued with wireless transmission of power.
In 1900, Tesla began construction on Long Island of a wireless broadcasting tower. The project was funded with $150,000 capital from financier J. Pierpont Morgan. The project was abandoned when Morgan withdrew his financial support. Tesla's work shifted to turbines and other projects, but his ideas remained on the drawing board due to a lack of funds. Tesla's notebooks are still examined by engineers in search of unexploited ideas.
Tesla allowed himself few close friends, although one was humorist and author, Mark Twain. However, when he died in New York City on January 7, 1943, hundreds of admirers attended his funeral services, mourning the loss of a great genius. At the time of his death Tesla held over 700 patents.
updated ABR 10, 2010
edited by Carlos-F
posted by veja
He was portrayed by David Bowie in the movie "The Prestige" - one of my favourite movies.
- nonombre, ABR 10, 2010
Voting this up - Tesla does not get enough credit.
- ian-hill, ABR 10, 2010
Dr. José Protasio Rizal Mercado y Alonso Realonda (June 19, 1861 – December 30, 1896) fue un erudito filipino, el nacionalista y el partidario más prominente para reformas en las Filipinas durante la era colonial española. Es considerado el héroe nacional de Filipinas y el aniversario de la muerte de Rizal son conmemorados como una vacaciones filipinas llamaron Rizal Día. 1896 ensayo militar de Rizal y ejecución lo hicieron un mártir de la Revolución filipina. El se matriculó en la Medicina y la Filosofía y en las Cartas en la Universidad de Santo Tomas y entonces viajó sólo a Madrid, España, donde continuó sus estudios en el Universidad Central de Madrid, ganando el grado de Licenciado en la Medicina. Asistió la Universidad de París y ganó un segundo doctorado en la Universidad de Heidelberg. Rizal fue un polígloto versado en por lo menos diez idiomas. Fue un poeta prolífico, el ensayista, el diarista, el corresponsal, y el novelista cuyo la mayoría de los famosos trabajo fueron sus dos novelas, Noli mí Tangere y filibusterismo de El. Estos son comentarios sociales en las Filipinas que formaron el núcleo de la literatura que inspiró disensión entre reformistas pacíficos e incitó el militantismo de armado revolucionario contra las autoridades coloniales españolas.
Dr. José Protasio Rizal Mercado y Alonso Realonda (June 19, 1861 – December 30, 1896) was a Filipino polymath, nationalist and the most prominent advocate for reforms in the Philippines during the Spanish colonial era. He is considered the Philippines' national hero and the anniversary of Rizal's death is commemorated as a Philippine holiday called Rizal Day. Rizal's 1896 military trial and execution made him a martyr of the Philippine Revolution. He enrolled in Medicine and Philosophy and Letters at the University of Santo Tomas and then traveled alone to Madrid, Spain, where he continued his studies at the Universidad Central de Madrid, earning the degree of Licentiate in Medicine. He attended the University of Paris and earned a second doctorate at the University of Heidelberg. Rizal was a polyglot conversant in at least ten languages. He was a prolific poet, essayist, diarist, correspondent, and novelist whose most famous works were his two novels, Noli me Tangere and El filibusterismo. These are social commentaries on the Philippines that formed the nucleus of literature that inspired dissent among peaceful reformists and spurred the militancy of armed revolutionaries against the Spanish colonial authorities.
El santo Lorenzo Ruiz (C. 1600 – el 29 de septiembre de 1637) es el primer santo filipino (protomártir) veneró en la Iglesia Católica romana. Fue martyred durante persecución de cristianos japoneses bajo el Tokugawa Shogunate en el siglo XVII.
Saint Lorenzo Ruiz (c. 1600 – September 29, 1637) is the first Filipino saint (protomartyr) venerated in the Roman Catholic Church. He was martyred during persecution of Japanese Christians under the Tokugawa Shogunate in the 17th century.
Manny "Pacman" Pacquiao - Pound for Pound King
Manny Pacquiao es el primer pugilista en la historia de ganar siete títulos mundiales en siete divisiones diferentes de peso. Además, es el único pugilista de ganar el campeonato lineal en cuatro clases diferentes de peso. Aparte de ser a un pugilista, Pacquiao ha tomado parte en la política, la actuación, y grabación de música
Manny Pacquiao is the first boxer in history to win seven world titles in seven different weight divisions. In addition, he is the only boxer to win the lineal championship in four different weight classes. Aside from being a boxer, Pacquiao has participated in politics, acting, and music recording.
updated ABR 10, 2010
edited by 009ee30f
posted by 009ee30f
a heroic country!
- Fidalgo, MAR 27, 2010