what does bustier mean?
10185 views
updated JUL 23, 2010
posted by Aenia
How many times can I vote you up for this question??
- 0074b507, JUL 20, 2010
7 Answers
Hola,
En español:
corsé. (Del fr. corset, dim. de corps). 1. m. Prenda interior armada con ballenas usada por las mujeres para ceñirse el cuerpo desde debajo del pecho hasta las caderas. ~ ortopédico. 1. m. El que tiene por objeto corregir o prevenir las desviaciones de la columna vertebral.
Real Academia Española © Todos los derechos reservados
updated JUL 22, 2010
posted by LuisaGomezBartle
¡Muchas gracias, Luisa!!!
- peregrinamaria, JUL 20, 2010
No hay de que...
- LuisaGomezBartle, JUL 20, 2010
Finally, a question that merits some real study and research.
Actually, it can refer to lingerie or outer wear. If you are asking how it translated into Spanish, it is a French word and some foreign words aren't translated, but retain their foreign spelling. (No idea if that is the case here).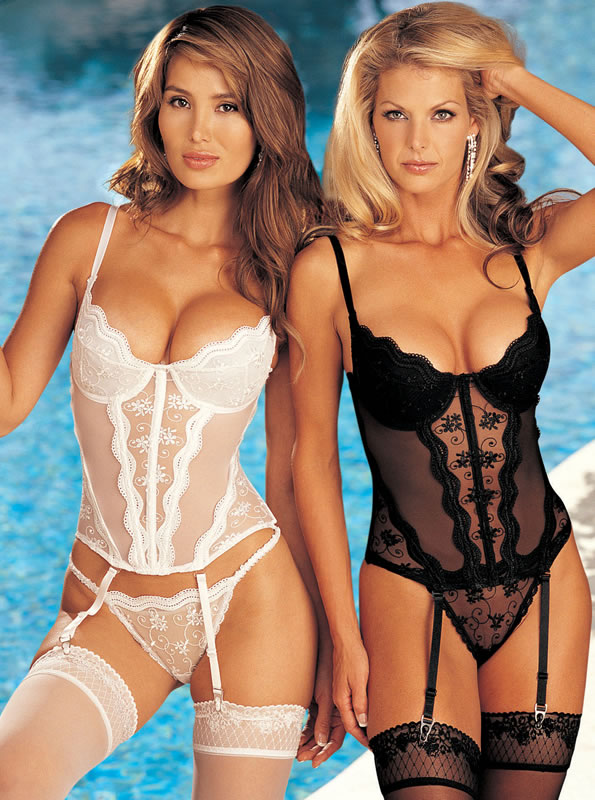 updated JUL 20, 2010
edited by 0074b507
posted by 0074b507
Jejeje
- --Mariana--, JUL 20, 2010
I have been looking at this all day deciding whether to delete it. I just cannot press the delete button, hehe.
- Eddy, JUL 20, 2010
Well, I believe the looking at it all day part.
- 0074b507, JUL 20, 2010
Bustier means a lady with larger breasts.
updated JUL 20, 2010
posted by billymc
je je
- lagartijaverde, JUL 20, 2010
With larger breasts than another woman, ie you need a comparison to use bustier.
- Eddy, JUL 20, 2010
Hi Aenia,
As you really want to know the answer to the question, let me assure you that Qfreed is correct - the girls in the pictures are wearing bustiers. When worn as underwear, or lingerie, they may or may not have those little straps (garters) that hold up stockings and normally come down to around the waist. They are generally made from lace ("encaje) and may have strips of plastic or metal sewn into ribs, strips or seams running vertically down them. This is known as "boning" (boys, if I hear a single snigger...) as whale bone was originally used for this purpose. They are often fastened with "hooks and eyes" or "corchetes" (see the picture below), either at the back or the front.
The second picture, of the gold coloured bustier, shows a one that is an actual top, or outerwear. I suppose that the best way of differentiating a bustier from any other top is that it fits the body very closely and generally has a bra (brassiere) built into so it supports and emphasises the breasts. They are often worn for a pop-princess, sexy or goth look and are often made from lace too.
In Spanish, this may possibly be called "un sostén de cuerpo" or "un sostén largo". Perhaps you could let me know the correct word or expression if you have understood my explanation?
I hope that this helps.
updated JUL 23, 2010
posted by peregrinamaria
Actually, I was wondering if the question was how to pronounch it in English since it has the French pronounciation and doesn't sound like it is written in Engllish.
- 0074b507, JUL 20, 2010
You think? Aenia did write "meaning".
- peregrinamaria, JUL 21, 2010
Thank you peregirnamar :3, we call them (at least in Chile) corsé (from corset)
- Aenia, JUL 22, 2010
Glad that you found what you needed to know. And I've learnt a new word too. :)
- peregrinamaria, JUL 23, 2010
Qfreed
The chap on the right reminds me of my uncle Fred. Same colour hair, black underwear and, oh! he also wore an earring.
updated JUL 20, 2010
posted by Eddy
jajajajajajajaja!!!
- amykay, JUL 20, 2010
Every family has to have at least one. Variety is the spice of life.
- 0074b507, JUL 20, 2010
Haha thanks :3, I think it was meant to be a piece of clothes and this was NOT a joke, really xD, I'm a spanish speaker I was reading a book in english and couldn't find the meaning
updated JUL 20, 2010
posted by Aenia
Boys, boys......something about this question just screams 'set-up'. And yes, before I get accused of this, I AM jealous that I don't look like that any more.....
updated JUL 20, 2010
posted by Echoline
Don't cry foul, a woman asked the question.
- 0074b507, JUL 20, 2010