more questions re: comer/comerse
as in the following:
"Jorge te come las tapas Arturo."
is this a sarcastic insult directed at arturo, or am i getting the verb/subject confused?
1437 views
updated JUL 7, 2010
posted by doublebeatloaf
1 Answer
It looks like the sentence isn't formed correctly but I think Jorge is eating appetizers with Arturo. Not an insult at all.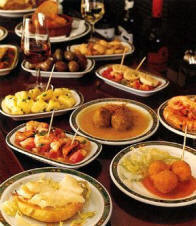 updated JUL 7, 2010
posted by chica_rica
mmm, no, i'm pretty sure it was meant as something else and not literally. i thought maybe it was a colloquialism from a certain country, and if so, who the statement is directed toward and in what way (i.e., positive or negative)
- doublebeatloaf, JUL 7, 2010