What does 'Justin Bieber 'mean in spanish?
Hello I would like to know what this name means''Justin Bieber''.
8309 views
updated MAY 15, 2013
posted by SmArTOnEs
4 Answers
updated MAY 15, 2013
posted by chechus
Or worse!!!!!!!!!!!!!!!! :-D
- chileno, MAY 15, 2013
well justin is from the Latin name Iustinus, which was derived from JUSTUS. This was the name of several early saints including Justin Martyr, a Christian philosopher of 2nd century who was beheaded in Rome. It was also borne by two Byzantine emperors. As an English name, it has occasionally been used since the late Middle Ages, though it did not become common until the 20th century
updated JUN 30, 2010
posted by cynthia71953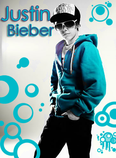 As a Canadian I must say - he sings fine.
updated JUN 29, 2010
posted by margaretbl
Justin Bieber is a popular singer at the moment, particularly to young teenage girls (in the United States). He is more cute than talented.
If you want to learn more about his music, go to YouTube and type his name.
updated JUN 29, 2010
posted by 004e13c4