Easy Life For Men?
Do you think men have an easier life than women? Personally I don´t think this is true. If you want to post an opinion on this question, either in English or Spanish, please do so before this Saturday as I am off to Spain again, only this time to play golf with three male friends.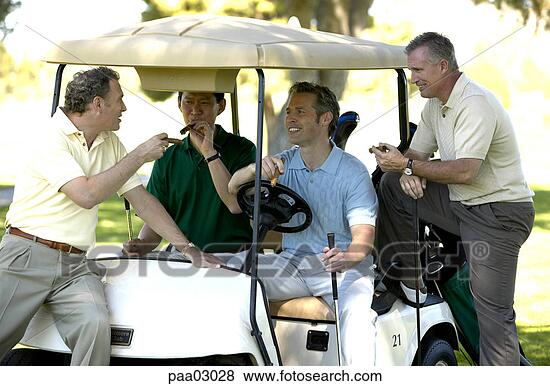 6685 views
updated JUN 30, 2010
posted by Eddy
Way to go Eddy.
- ian-hill, JUN 28, 2010
19 Answers
Easy Life For Men????
Ofcourse Eddy.......... I dont know about the other parts of the world, but in my place (Tamilnadu), guys have a cosy, comfortable and easy life than the girls. They have all freedom in the world.
Example, rules for me: Get up early, cook, clean, wash, got to office, then come back early from office, again cook, clean, sleep............ and my brother: get up @ 8 or 9 AM, eat, go to college, come back as late as possible, watch movies with the ghosts till 1 or 2 am, then sleep......
Also, guys can smoke, drink, can even have a relationship before marriage, and if the girls do these things then she is not from a good family :(
Huh . I think i can even present a thesis on this topic.
But still, as Nicole said, they have their own struggles and difficulties...
updated JUN 29, 2010
posted by Vaanz
I am glad you are on the forum, it is good to hear about lives that are different from mine. Be strong and come on here and talk when you need to!!
- margaretbl, JUN 28, 2010
watch movies with the ghosts.....Nice expression :)
- Izanoni1, JUN 28, 2010
Very nice. We don't realize how far we (women) have come in our society.
- lkelly, JUN 28, 2010
Thanks Vaanz for a different point of view!
- Delores--Lindsey, JUN 28, 2010
I like the "watch movies with ghosts" phrase too
- nizhoni1, JUN 28, 2010
Thanks margaret... :)
- Vaanz, JUN 29, 2010
I am on my way out the door and since this subject probably requires an ample amount of the subjunctive tense, I will reply in English for now.
I believe that men and women have different struggles and difficulties. However, I do not believe that men have an easier life than women. I'm sure you can point to a particular family or individual and say that either the man has less responsibility or the woman does. But usually these are cases where someone, somewhere is not pulling their weight, leaving the burden for the other party to take care of.
I often hear women complaining that "men have it so easy". They don't have to be pregnant, give birth, take care of the kids....and on and on they whine. However, there are so many times when I am relieved that I'm not the man. These times include: when the car breaks down; when something needs to be fixed; when the lawn needs to be mowed; the snow needs to be shoveled; when heavy lifting needs to be done; when something "goes bump" in the night....who is always sent to see if there is a prowler downstairs?
I know I probably just opened the can of "equal rights" but the truth is that although women can and will do many of those things, it is usually the man left with those burdens. I say....you can have them.
updated JUN 28, 2010
edited by Nicole-B
posted by Nicole-B
Good perspective
- scottdoherty, JUN 28, 2010
Thank you so much for being willing to look at this issue from both sides !
- FELIZ77, JUN 28, 2010
They are my best friends
- nizhoni1, JUN 28, 2010
The fears and struggles of men....Here is one for you Eddy.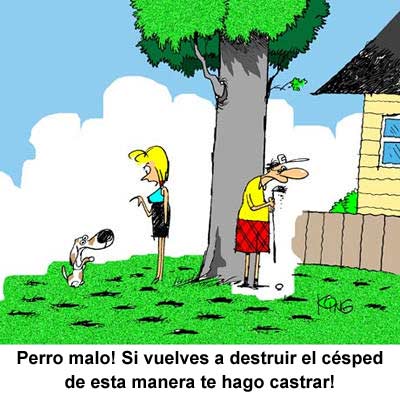 updated JUN 28, 2010
posted by Nicole-B
Ouch!!!
- Eddy, JUN 28, 2010
Now there's an incinitive to improve your golf game....ouch is right
- Izanoni1, JUN 28, 2010
Ooooo!
- Yeser007, JUN 28, 2010
AaH!
- Austin67427, JUN 28, 2010
Well as Ken K said, I did ask this question "tongue in cheek" and I am amazed at the support we men have received from women members. If I am honest, I do believe I have an easier life than my wife for many reasons which I will not go into. She works extremely hard both inside and outside the home. Having said that, whilst I am working on Spanishdict at the moment, "phew", I can see her sunbathing in the garden through my study window, probably dreaming about being a surfer, hehe.
updated JUN 30, 2010
posted by Eddy
I wouldn't touch this subject with a ten foot pole.
updated JUN 29, 2010
posted by Yeser007
Now in England I would say "ten foot barge pole", just don't ask me why.
- Eddy, JUN 29, 2010
lol.. yeah I always say that (I'm English) and my Irish friends are like 'what the hell is a barge pole?!' :)?
- kirstenalexander, JUN 29, 2010
Many a time I have seen Eddy reply to a posting saying " This smells a lot like homework to me ". Well Eddy is the shoe on the other foot here or not, you would'nt be trying to find a better excuse to rationalize your little trip to Spain by any chance,would you. Please post your excuses so we can pick your best one,or provide you with a better one.
updated JUN 29, 2010
posted by albert-fabrik-
rofl :D
- Izanoni1, JUN 28, 2010
then you can use the best ones when you need them
- nizhoni1, JUN 28, 2010
I think it all depends on how you look at life and what you are looking to get out of life., Usually we get back from life what we are willing to give to others irrespective of whether we are girls or guys. However, in some parts of the world women do have it harder than men because some men who hold positions of power and influence choose to make it difficult for women to receive a good education, get a job and exercise sufficient influence over their lives. Many men in society are not in favout of this unfair treatment but it can be very difficult to speak out against unfair rules in cultures other than your own...without opening yourself up to accusations of racism from those who oppose the radical challenge to their status quo.
Even within the western world there has not been the kind of equality that I and hopefully many men would like/prefer to see: equal pay for women doing the same work and conversely equal paternity leave to match that for women yes ladies it cuts both ways ! lol
Areas wher women have suffered in life include:
1 No access to education in some parts of the world
2 More girls and women suffering through abuse and forms of slavery than ... boys /men eg people trafficking
3 Often carrying the greater weight of the responsibility for the care of family especially where men have neglected this through absentee fathers having abandoned their family / being caught up in drus/alcohol abuse and gambling addictions.even though they may still live at home.
Where men have suffered:
1 From prejudice when they have dared to show caring skills in society (and within their family) : by working with children Some men are good at this work and some women are not.
2becasue.. they have received men bashing from some women ( a minority I suspect!) who have wrongly assumed that all men are bad news because of the unkind treatment that some women have unfairly sufferered at the hands of some bullies! (men)
3.. through assumptions that their only value in life/society has been tied up with being the 'bread winner' in teh family / their ability to earn money and now more women are working and earning their own money many men may have have been left to feel redundant as if their skills are not so important.
I am not implying that these ares will apply to all people and certainly not to the same extent but we need to be honest that many people of both sexes have suffered and that just becuase men have traditionally occupied many of the positions of power in society doesn't mean that life has always been easy for them either Please remember that men and women both suffer in these ways ... they can also: lose their jobs suffer through divorce, grieve the loss of loved ones and struggle with bringing up children.
updated JUN 28, 2010
posted by FELIZ77
You've reminded me that I was looking at this from a Western/American point of view. Thanks for reminding me that there are places in the world where women do not share the same rights and freedoms that I do.
- Nicole-B, JUN 28, 2010
It really depends from a place and from lots other things. If people don't live in deprivation, both genders can find great self expression in differend ranges.When talking about golf, Eddy, is it easy to you because you like it or not easy (maybe your wife is not very glad about your hobbies, jeje)?
updated JUL 16, 2010
edited by swing
posted by swing
She cannot wait for me to leave, hehe.
- Eddy, JUN 28, 2010
Yes, of course men have a much easier life than women . But I am still proud to be a girl .
updated JUN 30, 2010
edited by Nicole-B
posted by 00b6f46c
"a" much; "than" women..."I"m" still
- Nicole-B, JUN 28, 2010
i passed my edites limit for the day can you correct it for me please ?
- 00b6f46c, JUN 28, 2010
thanks nicole -;)
- 00b6f46c, JUN 28, 2010
There is feminism for you...
- Snowleopard, JUN 28, 2010
not "then women"; "tan women" is/was correct.
- samdie, JUN 28, 2010
not "then women"; "than women" is/was correct.
- samdie, JUN 28, 2010
You guy have got to watch these great videos on The Man and Woman myth.
Don't get angry until you've seen all of them. He explains feminism and why it came to be.
updated JUN 30, 2010
edited by Eddy
posted by Snowleopard
I know you guys will hate me for this....
- Snowleopard, JUN 28, 2010
Just tidied up your link. Interesting clip though.
- Eddy, JUN 28, 2010
lol Its spelled "Misandry" not "mysandry" Thanks though
- Snowleopard, JUN 28, 2010
Also he has quite a few videos on a wide range of topics, that I think is quite interesting.
- Snowleopard, JUN 28, 2010
Well, I do hate you in principal and I agree with much of the interiews
- nizhoni1, JUN 28, 2010
That's the last time I ask Heidi how to spell a word.
- Eddy, JUN 29, 2010
lol He shows how to spell it right in the beginning of the video
- Snowleopard, JUN 30, 2010
Es verdad que algunas personas tienen una vida más fácil que otras, pero no creo que tiene algo que ver con el género. Preferiblemente es conectado con nuestras vidas anterior y con 'el crédito' que habíamos acumulado. Si es mucho, ahora disfrutamos la vida, si es poco, ahora pagamos por esto; pero el mismo tiempo estamos dados una oportunidad para cambiarnos.
Enjoy your trip to Spain, Eddy, I'm sure you will!
updated JUN 29, 2010
posted by luz_72
Eddy - it is a very serious question. I would rather be a girl than a boy in today's world.
There are many reasons I could give for having this opinion but will wait for others to respond before I give them.
Enjoy your golf - and no guilt feelings. Some golf courses even allow women to play these days.
Amazing the way the world has changed.
updated JUN 29, 2010
posted by ian-hill
Eddy...now you are in for it!I will tell Joyce right away!
updated JUN 29, 2010
posted by 00494d19
I wondered how long it would be before you appeared. However, being Heidi, you just didn't take the bait, hehe.
- Eddy, JUN 29, 2010
Eddy, this question is too hard. Ditto what Nicole said.
updated JUN 28, 2010
posted by Delores--Lindsey
updated JUN 29, 2010
posted by Eddy
Lo siento
- lkelly, JUN 29, 2010