Interpretations...some suggestions please
Enamorada YouTube Video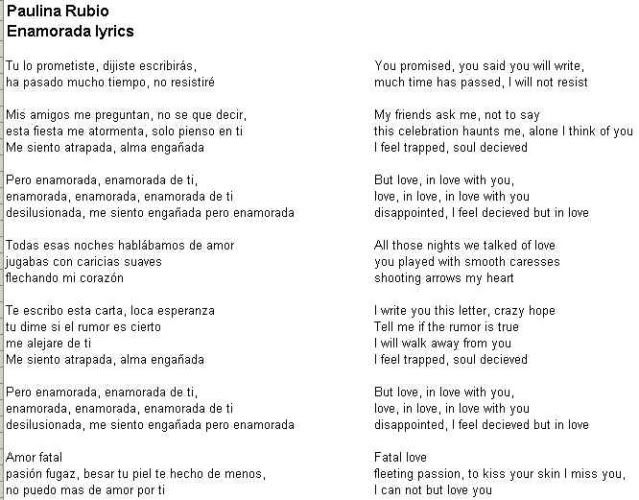 Translating songs makes me slow down and focus on the tenses and moods. This song has a little of everything...present, imperfect, preterit, subjunctive, future and present perfect. What I would like is for someone proficient in both languages to throw in a few better translations here and there. Why "esta fiesta me atormenta", "flechando mi corazón" and the last line "no puedo mas de amor por ti? I know it's a song and open to many interpretations. How about a few of yours?
1259 views
updated MAR 24, 2010
edited by MattM
posted by MattM
Te echo de menos (sin h)
- Eddy, MAR 23, 2010
Regarding interpretation, I would say no puedo más de amor por ti, " I couldn´t love you more".
- Eddy, MAR 23, 2010
Fiesta can mean "reunion" so it could be "this getting together" but again, my interpretation.
- Eddy, MAR 23, 2010
Sounds much better..Thanks Eduardo!
- MattM, MAR 23, 2010
Finally atormentar can mean to tantalize. That puts a different slant on this line doesn´t it.
- Eddy, MAR 23, 2010
¡Sin duda lo hace!
- MattM, MAR 23, 2010
También, me molesta. ... '¿besar tu piel te hecho de menos'?
- MattM, MAR 23, 2010
2 Answers
Besar tu piel te echo de menos - I really miss kissing your skin.
Flechar can mean to wound with an arrow so flechando mi corazon means "wounding my heart"
Also flechar a alguien can mean to sweep somebody of their feet so I suppose an interpretation here could mean "Sweeping my heart away".
updated MAR 23, 2010
posted by Eddy
O.K. your holdin out on me. I've passed this thru a few translators and didn't see it. You hear this, know it from experience? Maybe a super duper high powered reference source your willing to divulge. I'd pay handsomely!
- MattM, MAR 23, 2010
Hola, esta es mi interpretación:
No sé qué decir = I don't know what to say.
Sólo pienso en ti = I only think about/of you.
Pero enamorada, enamorada de ti = But in love, in love with you.
Flechando mi corazón = Shooting arrows at my heart/winning over my heart/reeling in my heart... (Algo por ese estilo.)
No puedo más de amor por ti = Esta está difícil... Yo pienso que ella está tan agobiada por su amor que no puede seguir, está desesperada... Yo diría algo como, "I am so in love with you that I can't go on", pero está medio rebuscada.
Good luck.
updated MAR 24, 2010
posted by LuisaGomezBartle
Gracias por su interpretación. Esto es lo que esperaba ver. Muy útil.
- MattM, MAR 24, 2010