The "squirrel", the "gopher" and the "mole", were eating
How would you translate the following words squirrel, gopher, mole
7566 views
updated MAR 19, 2010
posted by Manu123
3 Answers
Gopher -- Tuzas, taltuzas o ratas de abazones
.
Los geomíidos (Geomyidae) son una familia de roedores excavadores conocidos vulgarmente como tuzas, taltuzas o ratas de abazones. Se encuentran en Canadá, Estados Unidos, México, América Central y Colombia.
En México habitan 6 especies que se encuentran en peligro de extinción.
Squirrel -- Ardilla
Mole -- Topo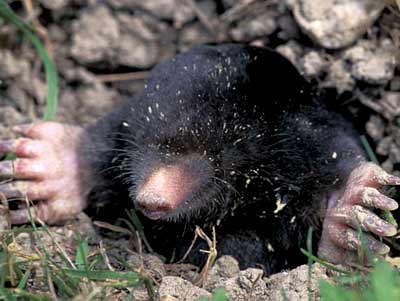 updated MAR 19, 2010
edited by Benz
posted by Benz
Eh? I always thought a gopher is some sort of ground squirrel! Isn't an "hurón" a small carnivorous mammal? Let's see... yeah! a ferret! I thought so!
updated MAR 19, 2010
posted by Gekkosan
My mistake Gek!!! Thanks!!
- Benz, MAR 19, 2010
Hi Manu. Welcome to the forum.
All three of the words you're looking for can be found in the dictionary, which is located at the top of this page.
updated MAR 19, 2010
posted by --Mariana--