Has anyone had a problem getting his microphone to work in the speak section?
My microphone works fine with my computer's recorder utility and with Wavepad, but will do nothing on the site. I have tried four different browsers, IE, Firefox, Google Chrome and Opera. No luck.
1548 views
updated SEP 20, 2009
posted by colen35
2 Answers
I just checked the microphone, and it works fine. You have to have adobe flash installed, which you can get here: Adobe
When you start the "Speak"section, you should get a little popup box in the center of your screen like this: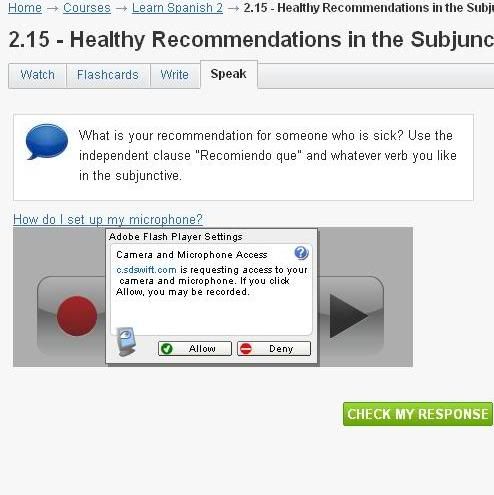 Once you click "Allow" the recording begins.
updated SEP 20, 2009
posted by Goyo
I was not getting the pop-up when trying to speak. I had to right-click the player area to get the window.
- colen35, SEP 20, 2009
I hope it's working well now for you.
- Goyo, SEP 20, 2009
This is wat i said to another person :
I have that problem to... sometimes when i play flashcards the sound doesnt come on SOME of the words and pictures which makes me get less points sometimes which infuriates me!!! it was very weird becuase just beforei saw this post i clicked on learn spanish, but came up with 3 random sites; 1 kettle, 1 energy saving and another driving lesson thinigmabob!!!! I have no idea what was going on!!!! Anyway, i think i shall contact the site and hopefully they wil lfind out if its their site and hopefully resolve it! i hope you find my answer/quiery useful xxx =)
updated SEP 20, 2009
posted by jessthwaites