Home

>

Q&A

>

The English Word of the Day: Cheat
The English Word of the Day: Cheat
translate/cheat">to cheat (verb)
(in exam) copiar
(on a spouse) engañar
(in a game) hacer trampa
(swindle) estafar, defraudar
---
Today's word is inspired by this question of LaPiedraAlegre in our forum last week.
---
My sincere thanks go out to Mariana for helping us out with the Spanish as often as she can.
And, of course, I am also grateful to all native speakers who come by and help occassionally or regularly as well. A special thank you to you, luisssito!
---
Estamos buscando un corrector oficial de las frases en español para este hilo, así que si estás interesado, por favor envia un MP a rac1 o a mí
Hay muchos hablantes nativos de inglés aquí, entonces la mayoría de ellos puede ofrecer sugerencias a las frases en inglés. Voy a ayudar tanto como pueda, por supuesto.
Aquí están las directrices del juego:
Usa la palabra en una frase en inglés y añade la traducción al español. Intenta usar la palabra de una manera original.¡Usa tus propias palabras!

Vota por las frases que más te gusten.

Escribe solamente frases que tengan, al menos, 5 palabras, pero no escribas párrafos con 4 frases o más.

Haz las correcciones sugeridas por el corrector official.

El ganador será elegido basándose en el uso correcto de la palabra, así como en la cantidad de votos.

Respeta las reglas de SpanishDict.

¡Disfruta el juego y mantén siempre en mente que todos nosotros estamos aquí para aprender!
---
We are looking for an official corrector of the Spanish sentences for this thread, so if you are interested, please send a PM to either rac1 or me.
As there are lots of native English speakers here, most of them can offer suggestions to the English sentences. I shall try to help as much as I can too, of course.
Here are the rules of the game:
Use the word in an English sentence and add the Spanish translation of that sentence. Try to use the word in an original way. Use your own words!

Vote for the sentences that you like most.

Write sentences of at least 5 words, but don't write paragraphs of 4 sentences or more.

Correct your sentences according to the suggestions of the corrector.

The winner will be chosen based upon the correct use of the word as well as the number of votes.

Respect the rules of SpanishDict.

Enjoy the game and always keep in mind that all of us are here to learn.
---
Mi frase/my sentence:
This chicken works hard on overcoming his desire to cheat death by crossing the road all the time.
Este pollo trabaja mucho en superar su deseo de engañar a la muerte por cruzar la carretera todo el tiempo.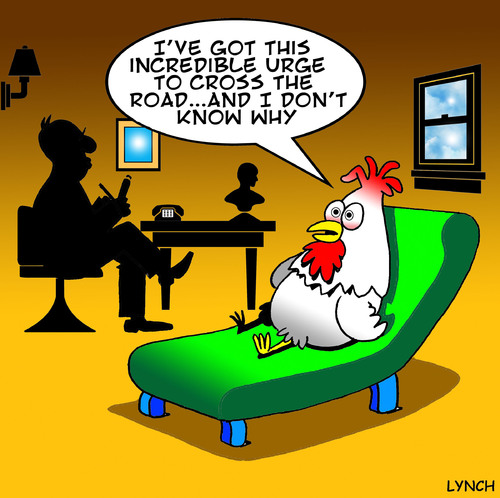 ---
¿Has visto todas las contribuciones en 'The Word of the Day' de ayer? Todos los jugadores merecen tu atención (y votos).

Did you see all the entries of yesterday's Word of the Day? All players deserve your attention (and votes).
Posted Mar 10, 2013
| 2606 views
| link
14 Answers
Cheating students learn they can receive credit for minimal work, which has negative effects on their work ethic later in life.
Los estudiantes que copian aprenden que pueden recibir crédito por un mínimo de trabajo, lo que tiene efectos negativos en su ética del trabajo
Vote
Unvote