Comprar verduras orgánicas, o no comprarlas, esa es la pregunta:)
Whether to buy organic vegetables or not to buy them , that is the question. What are the benefits.=¿Cuáles son los beneficios? Are free from pesticide.=Son sin pesticidas. Are tastier. =La comida sobre mejor. Are healthier. =La comida es más sano. What are your opinions.I shall reserve mine.And are they cost effective?

.
Please let me know what you think for this is a very important consideration for all.
3244 views
updated AGO 13, 2010
edited by 00494d19
posted by ray76
Great topic, Ray!
- --Mariana--, JUL 16, 2010
11 Answers
I grow as much of my food as I can, even now although it is mid winter in Melbourne I have enough sweet peppers to give me a feed once a week and give to my son also, , Chillies, Lemon grass, all the herbs, and coming on Snow peas, potatos , Mexican garlic which took a little longer to germinate but are now going gang busters,.A lemon tree is producing well and a lime tree will make me excellent Gin and lime for an evening tipple, a Pieapple Guava should be fruiting soon and a Fig tree which I adore. But I have to make sure I bottle left over produce such as Tomatoes , I dry my chillies , and hang the garlic for use all year, and when possible I dry and freeze food.But this is not enough to sustain a vegetarian so I have to buy from wherever I can, I do not trust organic labeling but buy it in order to support the organic industry, but I vigorously question the authenticity of the produce. Buying from farmers markets is a good way but ask the farmer if you may visit his farm and judge his reaction which may indicate how organic his food is. Whether there is enough residual insecticide in the food to warrant paying the hefty premium they charge ,, and they do all charge like wounded bulls, or the fact that the veggies are usualy quite old and wilted worries me a little, the taste is very hard to test , i think that organics do taste better, although this year they have brought out new tomatoes which are just glorious and i buy a lot of them for my larder is now bare. I do wash all the bought vegetables in a solution of Cider vinegar ( organic of course ) and water just in case, but remember there are a lot of toxins in all vegetables whether organic or not so you are still giving your liver a lot of work to do which is what it is designed for. So in the final analysis I think that it is wise to buy organic if you know they realy are what is termed grown organicaly, but ,if you are not sure , and like me are on a tight budget then be practical buy the fresher longer lasting produce , wash them well and enjoy . But try to grow as much as you can , get some Chickens to give you organic compost for the garden and eggs for a healthy body, also get back into bottling and drying as your grandmother had to .
updated AGO 13, 2010
posted by ray76
Bottling Ray, jejeje we call it canning here in the U.S., that's funny. When I talk to you I feel as if I'm learning yet another language.:)
- Yeser007, JUL 16, 2010
Thanks yesero, Leave your money on the Fridge! And thank your mother for the Rabbits!
- ray76, JUL 16, 2010
you are fortunate to live in such a beautiful climate to grow so many wonderful foods.
- sagiia, AGO 13, 2010
I buy organic. It is not just pesticides you have to worry about. There are a lot of genetically modified organisms that were introduced into the food supply in the early 1990's such as soy, corn and canola. I do not want those in my body. Organic fruits and vegetables taste better. ¡Compra verduras orgánicas!
updated AGO 13, 2010
posted by spdictpb
I still wonder about Genetic modified food , and would not have Canola if you paid me .
- ray76, JUL 16, 2010
I agree with you, Ray, that it's hard to trust whether food is really organic even though the label tells us that it is. Lord knows that we can't trust the government to oversee such things, so the U.S.D.A. label as "organic" does make me feel any better.
I think the only way to be 100% sure is to grow and eat your own food.
I don't grow my own food, so I buy my organic groceries at a specialty supermarket and from local farmers. I began buying organic milk way before it became popular because I prefer my food without pesticides and other poisons. Moreover, I don't think washing fruits and veggies is enough when the poison is in the soil, and therefore, the chemicals become part of the very essence of the food grown in that tainted soil.
So, although it costs more (understandably) I do buy mostly organic products. I also buy recycled paper towels, aluminum foil, trash bags, etc. from the same store.
updated AGO 13, 2010
posted by --Mariana--
Do your supermarkets give you plastic bags to carry home your goods?
- ray76, JUL 16, 2010
So far it seems like all answers pretty much follow the same line, and overall I agree. There's always the possibility that "organic" isn't much more than just a label - isn't it horrible how cynical we all have (been forced to) become?
In any event, I guess we all need to believe in something.
In my case, I have chosen to believe that there is some honesty behind the "organic" labels, and my rationale regarding cost-effectiveness is thus:
If the current health "experts" are right about their claims, then paying more for organic now translates into an investment of sorts: we are investing for better health in the long run (meaning fewer medical expenses), and we are investing for a healthier planet.
I trust it's the right choice. I must say sometimes I still miss some of the guilty pleasures of the horrible junk food I used to eat!
(But the truth is that I do feel better, overall).
updated JUL 16, 2010
posted by Gekkosan
Thanks mate , you are on the right track to overall health, I hate being cynical but sometimes we have to be wary.
- ray76, JUL 16, 2010
Yeah i agree with jeezzle... Even i dont want any pesticide in my food.
We tried once.. It taste the same
and ofcourse they are healthier(No pesticides
)
I was told that it is not that much more nutritional, then the only difference is that it doesn't contain pesticides, no food coloring and there are no preservatives.
.
Also it has shorter shelf life than non-organic vegetable.This is a major disadvantage for both consumers and stores, as it can be quite costly in the end. Also they are not freely available. In Chennai, its available only in couple of places.
It is more costly to grow and produce organic food. Those added costs are passed on to us. Here the cost is almost double the normal rate. Its quite costly for us. Also since larger companies have bought into Organic industry, the foods are treated more like brands.
.
We cant be certain that they are truly organic. It says so on the label, but I'm not sure whether its true or not.
.
Since I'll always clean it properly before using, I'll go with the non organic vegetables as they have more shelf life and cheap compared to organic
updated JUL 16, 2010
posted by Vaanz
A good point about the conglomorates buying out the organic producers that is why I do not trust them any more, thank you Vanz,
- ray76, JUL 16, 2010
I don't know about the vegetables but I try to buy as many organic products in general as I can. Peanut butter, tomato sauce, pretty much everything has an organic counterpart. It's not cost effective, it costs way more. It also tastes much better and it's much better for you. I am sure the same is for the vegetables. Who wants pesticides and stuff like that in your veggies? Not me.
updated JUL 16, 2010
edited by jeezzle
posted by jeezzle
You are right mate , but how do we know what we are getting is the genuine article? I am suspicious!
- ray76, JUL 16, 2010
I do for the taste. I only just bought tomates de Murcia....taken right from the field....delicious.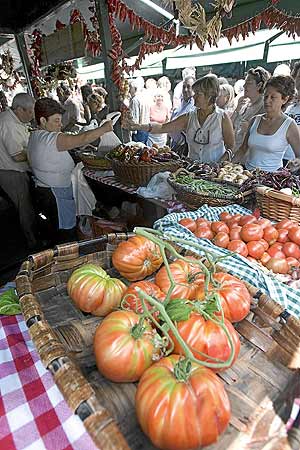 updated JUL 16, 2010
posted by 00494d19
OOOh that looks so good , note the imperfect tomatoes that shows they are organic I bet they taste just fantasticos.
- ray76, JUL 16, 2010
Wow, they look more like pumpkins.
- Yeser007, JUL 16, 2010
We have similar that are called "Grosse Lisse"
- ray76, JUL 16, 2010
Remember the trouble Spain had with tomatos grown under plastic a few years ago?
- ray76, JUL 16, 2010
Si el coste es razonable, preferiria productos orgánicos. Demasiados alimentos procesados pueden ser dañosos a mi salud.
If the price is reasonable, I would prefer organic produce. Too many processed foods can be harmful to my health.
updated JUL 16, 2010
posted by wansell
Yes price can be an inhibiting factor when shoping , it makes my hand hover over the food for a while.
- ray76, JUL 16, 2010
We studied agriculture in college. We do have a garden where we grow vegetables. When we buy fruits and vegetables, we concentrate on buying the following vegetables and fruits organically: peaches, apples, grapes, carrots, celery, cauliflower, broccoli, spinach, lettuce. We concentrate on the highly sprayed and treated fruits and vegetables and make sure we buy those locally from a trusted grower or a organic vendor
updated JUL 16, 2010
posted by sanlee
that is smart , Strawberries are the worst offenders for pesticides so wash them well or grow your own.
- ray76, JUL 16, 2010
We buy some mostly because they taste better but like you Ray, I am skeptical. It's easy to put a label on something saying it is organic but how do we know for sure.
updated JUL 16, 2010
edited by Yeser007
posted by Yeser007
Right on yesero we have to question them always , thanks mate happy eating.
- ray76, JUL 16, 2010
There are two more sayings for you to work out above mate,Bet you London to a brick you dont get them.
- ray76, JUL 16, 2010
Growing your own is a great option. The fresher the food is the more nutritious it is for you and also more easily digestible too with more natural enzymes that relaease nutrients into your body. Even if you live in the city, there are often community gardens where you can have a space for a minimal fee and also be part of a wonderful community. If you can't grow your own for whatever reason, join a CSA farm. CSA stands for Community Supported Agriculture. With CSAs you pay a set fee at the beginning of the growing season, usually between 200 to 300 dollars. Then throughout the growing season you receive a large box of fresh organically grown produce every week. If you have a small household, it is possible to buy a half share. The boxes usually contain more than you can use in a week. You do need to get used to cooking with whatever is in season locally, but it is well worth it. The freshness is incredible! Shelf life is not a problem because it comes to you freshly picked and you need to eat it up in a week before the next box comes. Some CSAs like for participants to volunteer a few hours on the farm which makes you really connected to your food. Your CSA would be local to you, so easy to visit. And all CSAs welcome their shareholders to visit the farm so you can see for yourself the growing methods used. I believe I would easily spend more than $300 in a growing season for non-organic produce at a grocery store. So it is a bargain. I am fortunate that my sister has a CSA farm and also three of my friends do. Many CSAs also offer organic eggs, milk, and meat.
It is important for me now to eat organic foods as I was recently diagnosed with gall stones. The doctors wanted me to have emergency surgery, but I refused and am healing it with herbs, energy work and diet. I need to be extra good to my liver and not tax it with toxins so that I can help my precious little gall bladder to heal. But when it comes to children, I cannot even imagine feeding my precious ones food filled with pesticides and toxins.
updated AGO 13, 2010
posted by sagiia