Hurricane Agatha opens up gigantic sinkhole in Guatemala
Tiene que verlo para creerlo...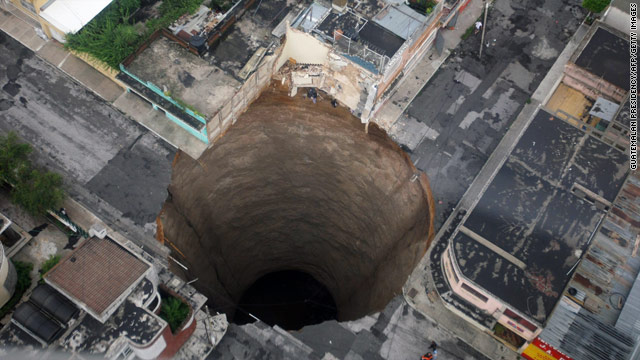 http://www.cnn.com/2010/WORLD/americas/05/31/honduras.storm.emergency/?hpt=T1
A gateway to hell itself?
Will the tripods be coming out of it?
5635 views
updated JUN 2, 2010
edited by TheSilentHero
posted by TheSilentHero
Wow!!
- --Mariana--, JUN 1, 2010
11 Answers
According to National Geographic this sinkhole is actually closer to 100 meters deep (about 30 stories or 330 feet deep). Here is a picture, which compares the size of the sinkhole to the Statue of Liberty and adds a bit of perspective as to the actual size of this thing.
updated JUN 2, 2010
edited by Izanoni1
posted by Izanoni1
I believe the storm helped with the sinkhole but there were also 2 earthquakes in Guatemala and a major volcano eruption that took place during the storm.
Here is another post with some links.
This really breaks your heart: Guatemala, El Salvador and Honduras we feel with you
updated JUN 2, 2010
posted by 00a52084
There was also an eruption of another volcano in Ecuador as well :(
- Izanoni1, JUN 2, 2010
Here is an update for those who are interested:
The sinkhole in Guatemala City is about 20 meters across (66 feet) and almost 30 meters deep (100 feet). Authorities have not yet determined the cause, but the fact that it is nearly a perfect circle makes them believe that there was some sort of underground hollow or cavern which was enlarged by the torrential rains.
Even though a 3-story building went down the hole, apparently no one was killed. The building contained a clothing factory, and all of the workers had gone home at 6pm - about 1 hour before the hole opened up. A night/weekend watchman had left the scene because he received word that his own house was being flooded.
Amazingly, there was so much noise from the pounding rains and associated thunder, that a nearby neighbour, only 30 meters away, did not hear or sense anything when this sinkhole opened up!!
The official death toll is now at 152 and still climbing. Officially, there are at least 100 persons still missing.
updated JUN 1, 2010
edited by waltico
posted by waltico
thanks for the update.
- nizhoni1, JUN 1, 2010
It's a whole lot smaller than the Daisetta, Texas, sinkhole of two years ago but it would still scare me out of my wits if there was one like this here.
What's the situation with regard to insurance or public aid in Guatemala. I hope the victims will get help.
To see the Texas sinkhole, go to Google.com/maps, search for Daisetta, tx and yes, it's that great black blob to the top left of the map.
updated JUN 1, 2010
posted by geofc
By the way, that sinkhole is right in the capital - Guatemala City. Most folks would not have insurance of any kind.
- waltico, MAY 31, 2010
To boost public aid, the president has canceled school for the week and strongly suggested that the teachers get out there and help with rescue efforts and clean up.
- waltico, MAY 31, 2010
I checked out the video. That looked pretty scary1
- nizhoni1, JUN 1, 2010
I don't know if any one was killed in this particular sinkhole, Nicole, but, as I write this, the official death toll from Agatha is at least 109 here in Guatemala. Sadly, the actual number is probably higher than that. :(
updated MAY 31, 2010
posted by waltico
Thanks Waltieco, I was just reading about that in Silenthero's link. It is so sad. It seems like there is one tragic story after another in the world lately.
- Nicole-B, MAY 31, 2010
That is amazing and scary Silenthero. I was half listening to something about this on the news, but didn't look up from what I was doing.
I'm glad you shared this so I can see what I missed the first time.
Hopefully, no one was hurt.
updated MAY 31, 2010
posted by Nicole-B
"We may need another bucket or two of hot-patch."
updated JUN 2, 2010
posted by 008f2974
Strange it is so symmetrical and smooth.
updated JUN 1, 2010
posted by nizhoni1
Thank you for sharing the picture because I have not seen any others. It makes this more real to those of us who are far away.
updated JUN 1, 2010
posted by Delores--Lindsey
We have heard hardly anything about this tragedy ,my compassion and sympathies go out to all those people affected. I am attending a two day meditation retreat this weekend and shall ask all those there to send loving kindness and compassion to the people of Guatemala.
updated JUN 1, 2010
posted by ray76
Imagine what would happen to New-York or Paris, cities built on swiss cheese.
updated JUN 1, 2010
posted by sfrenchie