Favorite Spanish Word
Ok so here is what you do. It is really simple just think of your favorite spanish word and write it below. You can writw it alone or in a sentence, just make sure you write the meaning in english as well. My favorite Spanish word is, bicicleta which means Bicycle. Have Fun!!!
41584 views
updated JUN 7, 2012
edited by fiddleplayer93
posted by fiddleplayer93
You mean "write" right? Sorry couldn't resist ;-)
- lagartijaverde, MAY 11, 2010
Yeah, that's what I meant. lol Thanks
- fiddleplayer93, MAY 11, 2010
nice game!:))
- Brynleigh, AGO 15, 2010
imajinate (no acento on netbk keyboard) = you imagine
- carol-daniels, MAY 2, 2011
well, dang, fiddleplayer! You took one of my favorite spanish words already!
- Gillygaloo, MAY 18, 2011
carol-daniel, did you try holding down the Ctrl key and typing 161 on the numeric key pad? (If you are on a PC)
- farallon7, JUN 6, 2012
90 Answers
abecedario = alphabet
Because, that's where all the other words are found.
updated JUN 7, 2012
edited by canicos
posted by canicos
zarigüeya
opossum
because I looked it up years ago to try to write a note in Spanish to my niece who was taking Spanish at the time, and it looks and sounds so exotic. In my part of the U.S. we usually shorten the word to possum.
updated JUN 7, 2012
edited by revmaf
posted by revmaf
"Libros - Books"
Because I love reading so much .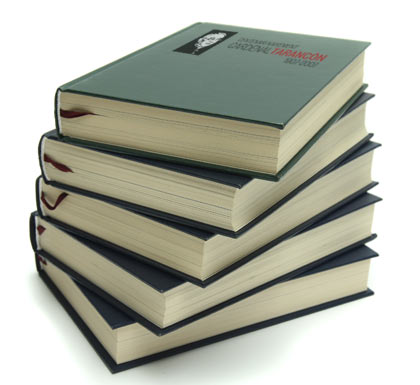 updated JUN 7, 2012
posted by Dua_Cairo
I have many favorite Spanish words. Here are a couple.
Desafortunadamente - Unfortunately (fun to say)
Aullar - To howl.
When you say "aullar" it sounds like you are howling at the moon, "Ah-ooooo-yar"
updated JUN 7, 2012
posted by bmancornelious
escuchar - to listen
..among a lot of others. But I really like this one, it sound very unusual and exotic compared to the meaning in languages like English and German, and has the typical Spanish mix of gentle and aggressive.
updated JUN 7, 2012
posted by larsson
I would have said niña as it is my dogs name but Cardiff beat me to it. My second choice therefore is buzo because it is what I am. No, not Bozo
- buzo which is a scuba diver.
updated JUN 7, 2012
posted by Yeser007
jeje ¿Tal vez los dos?
- Lrtward, MAY 11, 2010
it's fine to have the same favortie word as someone else.
- jtt96, MAY 18, 2011
I like the word jilipollas
I heard it a lot when I had some spanish friends on a holiday in Benidorm. It was said in the same way as one would say 'you silly guy/girl'
updated JUN 7, 2012
edited by Petirrojo
posted by Petirrojo
I believe that this word is offensive and should not be included. You may have spelled it incorrectly.
- JoyceM, ENE 4, 2011
My spanish friend relates that word to the offensive word that means the hole on one's behind. But it is spelled correctly.
- Felixlynx, MAY 2, 2011
in english that is.....wait i cant say that but it is a swear
- sam_walsh, MAY 18, 2011
Para mí, mi palabra favorita es 'erudito'. Significa educated, learned, or erudite. Me gusta porque aprendí erudito antes del inglés erudite. Me gusta cuando una palabra español me enseña una palabra inglés.
updated JUN 7, 2012
posted by Lrtward
Es muy divertido decir la palabra chimpancé. Jaja. Es la única razón que esa palabra es mi palabra favorita :D
updated MAY 2, 2011
posted by Debiera
¿Qué significa en inglés?
- Lrtward, MAY 11, 2010
chimpanzee :P
- SELWICH425, MAY 11, 2010
Leslie! I just learned that you can double-click anything on the page for an instant translation!
- LateToDinner, MAY 11, 2010
Oh cool...Love the double click feature!
- itsthewater10, AGO 16, 2010
Hmmm... I think my favorite would have to be "el elefante"- elephant, it sounds amazing and kind of rolls off your tongue when you say it!
P.S. I bet you tried saying it
updated ENE 6, 2012
posted by EJClaire
updated ENE 6, 2012
posted by TRINIPEARL
se vende!!!!!!!!!!!!
lol! I love Se Vende (for sale)
updated ENE 6, 2012
edited by princessjane
posted by princessjane
My favorite word in English is --Unlikely-Inverosimil.
updated MAY 2, 2011
posted by melipiru
jajaja bueno la mia es: relampaguear y especialmente Me encanta decir "Está relampagueando."
It means to lighten ...
and the sentence means it's lightening.
updated MAY 2, 2011
posted by culé
soñar - to dream. Not sure why, I just like the way it sounds.
updated ENE 4, 2011
posted by Jsanthara