¡Vámonos! SpanishDict Heads to the 2012 ACTFL Convention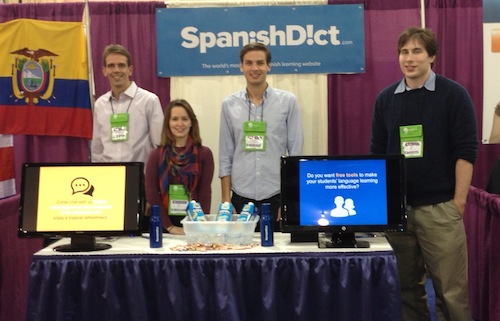 This past weekend, four members of the SpanishDict team traveled to Philadelphia, Pennsylvania to participate in the 2012 American Council on the Teaching of Foreign Languages Convention (ACTFL). The convention is the largest of its kind with thousands of language educators and companies participating from all over the world. 2012 has been an exciting year for us at SpanishDict and the convention was a great opportunity to spread the word about the site and the resources we have to offer when it comes to learning Spanish. 
Aided by free candy and tropical juice, we were able to meet hundreds of teachers who use our website everyday, not just for the sake of their students, but also to increase their own proficiency as well. Nothing makes us happier than learning from educators about how helpful our site is for them and their students. We know that the feedback we heard from them will only make our website even better. While everyone knows about SpanishDict's great Spanish dictionaries and Spanish translators, we also offer a whole host of free tools that can make your language learning far more effective.  From our conjugation tables and mobile apps to our Q&A forum and flashcards, we were delighted to learn how SpanishDict has become an indispensable online Spanish resource for many conference attendees.
All in all, we met great people, spread the word about SpanishDict, learned from educators in the classroom, and were able to talk face-to-face with many users. The 2012 ACTFL Convention was a great time for everyone involved on the SpanishDict Team.
Comments
To add a comment, please Login