Explore SpanishDict's New Dictionary, Design, and Super-Search Box!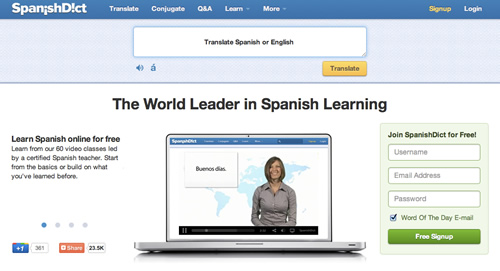 We are proud to introduce a redesigned and much-improved version of SpanishDict.com! In our newest version you'll find:
A complete, unabridged dictionary with hundreds of thousands of new translations, examples, and phrases.
One super-search box to search the dictionaries and translate sentences.
A streamlined, more intuitive design that is easier to use.
A new Spanish Grammar section with over 100 clear, concise explanations and interactive grammar quizzes with over 4,000 questions to help you master each skill.
Screenshot of the new grammar quizzes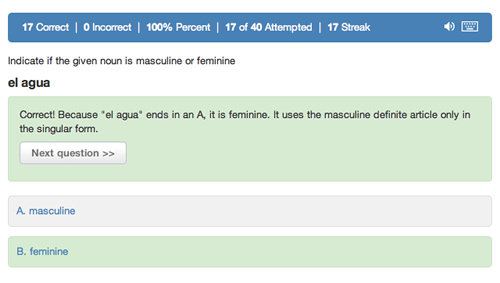 We have made hundreds of other small improvements, highlights include:
More powerful lookup: our super-search box recognizes thousands of word variations and points you to the correct entry.
Try searching for conjugated verbs like "fuiste", tricky prepositions like "la", or full phrases like "this is cool" and you'll find the best results available online.
Double-click to quickly translate a word throughout the site.
Easier social sharing of dictionary, conjugation, and other pages.
Cursor is automatically placed in the search box when the page loads.
Audio pronunciations of words that are entered into the translate box.
Direct links to content from the homepage when you are logged in.
Simplified navigation bar.
Audio pronunciation for phrasebook entries.
English verb conjugations.
Feedback tab to easily send in comments.
We hope you like the new site. If you have any suggestions, find any bugs, or just want to send us a message, click the "Feedback" tab on the right and drop us a line.
¡Saludos!
The SpanishDict Team
Comments
To add a comment, please Login