Home

>

Q&A

>

Happy New Year in Spanish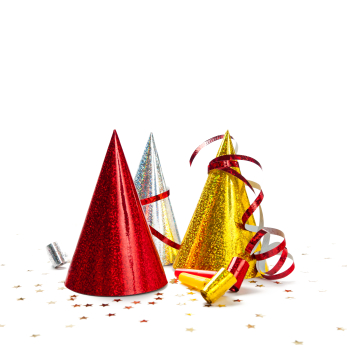 How do you say Happy New Year in Spanish?
Happy New Year: ¡Próspero año nuevo!

Happy New Year: ¡Feliz año nuevo!
Did you know… that in 1582 the Gregorian calendar established January 1 as the first day of the new year?

¿Sabías que… fue en 1582 que el calendario Gregoriano estableció el 1 de enero como el primer día del año nuevo?
Nochevieja, o Víspera de Año Nuevo, es la fiesta que celebra el comienzo de un año nuevo y es celebrada globalmente. Lo único que cambia son las tradiciones. Por ejemplo, en España, Argentina, Perú y Chile, entre otros, se comen doce uvas, una por cada campanada hasta las doce, pidiendo un deseo por uva. En Colombia, Ecuador, Venezuela, Uruguay y México se quema el "año viejo," un monigote que representa el año que termina. En México, España, Colombia y Perú se usa ropa interior de diferentes colores para atraer suerte, sea en el amor o en el dinero, en el año nuevo. Es muy común en Latinoamérica celebrar la llegada del año nuevo en familia, a diferencia de otras culturas que lo celebran entre amigos, y de ver los fuegos artificiales a las doce.
New Year's Eve is the holiday that celebrates the beginning of the New Year. While it is celebrated globally, traditions change from country to country. For example, in Spain, Argentina, Perú, and Chile, among others, it is tradition to eat twelve grapes, one for each stroke of midnight, making a wish with each grape. In Colombia, Ecuador, Venezuela, Uruguay, and Mexico, a rag doll named "the old year" and symbolizing the past year is burned in celebration of the coming one. In Mexico, Spain, Colombia, and Perú, different colored underwear is worn on New Year's Eve to attract luck, whether in love or money, in the New Year. In Latin America it is common to ring in the New Year with your family, unlike other cultures where it is celebrated with friends. Fireworks are also present in any New Year celebration.
Vote
Unvote