Home

>

Q&A

>

Fotos & frases (un juego para los estudiantes…
Fotos & frases (un juego para los estudiantes de español)
Fotos & frases
¡Hola a todos!,
quiero empezar esto juego facíl para practicar la construcción de frases o párrafos. Esta versión es para los que estudian español.
---
Los principios:
Publica una foto que te guste (por favor nada de ofender a los otros o que esté prohibido)

Explica en español y ingles por qué has elegido esa foto y qué te gusta de ella. Puedes escribir sólo una frase o un párrafo..

El resto de usuarios pueden corregir tu post. Sólo con la corrección de otros podemos mejorar nuestro nivel usando un nuevo idioma, en este caso, ¡el español!.
---
La foto puede ser una obra del arte, algo para motivar otros, algo gracioso, algo que has hecho, etc ...
---
¿Por qué combinamos fotos y frases? - Vale, la psicología nos dice que es más fácil aprender algo cuando combinamos estructuras / palabras / etc. con algo visual. ¡Liso y llano! (Es lo mismo principio que puedes descubrir es las Flashcards de Spanishdict).
---
A lo mejor, ¡pasárselo bien!
---
(soy estudiante también y por eso: corrígeme, por favor!)
---
---
---
Pictures & phrases
Hey everyone,
I'd like to start this as an easy way of practicing how to construct sentences or even paragraphs.
This version is dedicated to those who are learning Spanish.
---
The principles:
Post a picture that you like for whatever reason (please nothing that could harm others or would be against any law!)

Explain in English AND Spanish why you've chosen this picture and what you like about it. You may come up with one single, easy sentence or even write a paragraph.

Everyone is invited in correcting a post. Only by correcting each other we will achieve a higher level in using a new language, in this case, Spanish!
---
The picture could be a piece of art, a motivational picture, a funny one, some you've taken etc...
---
Why combining pictures and phrases? - Well, Psychology tells us that we learn and practice new things easier if we connect structures / words / etc. with visual imput. It's that easy! (And it's just the same that makes the SpanishDict Flashcards as effective as they are!)
---
Have fun, everyone, that's most important!
---
(I'm constantly learning, so if you find a mistake, please let me know, thanks!)
---
---
Do not hesitate to tell us that you like what you see by clicking "vote"
13 Answers
I love old photos especially this one of my mother. It was taken in 1932, before she was married and had her five children. I thank God for giving me a loving mother who always prays for her family even now at the age of ninety seven.
Me encantan las fotos viejas especialmente ésta de mi mamà. La foto fue tomada en 1932, antes que se casó y tuvo cinco hijos. Doy la gracias a Dios por darme una mamà amorosa que siempre reza por su familia incluso ahora a la edad de noventa y siete.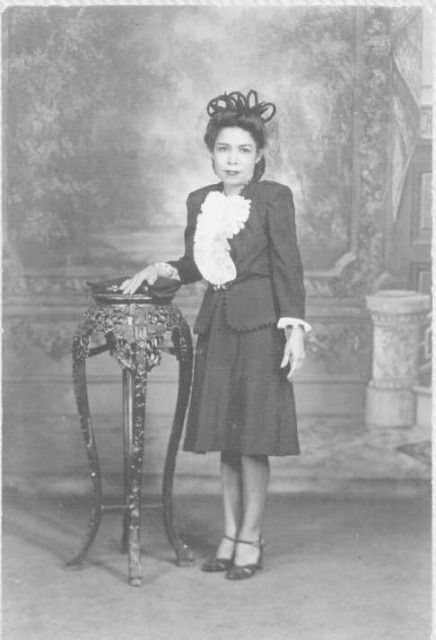 My mother - age 97. Mi mamà - la edad de 97.
Vote
Unvote