Home

>

Q&A

>

Birdwatching in Costa Rica for the Holidays
Birdwatching in Costa Rica for the Holidays
¡Hola a todos!
My wife and I returned from our three-week birdwatching trip in Costa Rica. We saw and did nearly everything I hoped for.
On this thread I will share some stories and photos.
To begin, I will summarize my favorite highlight of experience with Spanish, recently posted at the Isla de Apoyo. I will add reply posts to this thread as time permits to include more anecdotes, photos, and discussion.
---
My wife and I arrived at San Jose airport and were greeted by our driver (who works for the birding tour company we hired). He's bilingual, but beyond a few critical points of information, I spoke only in Spanish, explaining my experience learning Spanish, and much other personal history. The drive to our first hotel in the highlands was three hours, during which we talked about everything, in Spanish. He was simply wonderful, speaking slowly to ease my comprehension, and asking me quite a few questions about English, too. His English is about as good as my Spanish (jeje).
We visited four eco-lodges over the three weeks, and had lots of time together.
I also spoke Spanish with the locally hired staff at the hotels. I inquired and got laundry service, food choices, and small talk. I had occasionally experienced "brain freeze" still, but there was always another chance to try soon afterwards.
The big difference between Costa Rica and my usual home neighborhood is that at home, I get only occasional opportunity to speak Spanish, and even a little "brain freeze" creates a total disappointment. In Costa Rica, with much more frequent opportunity, I could discover that I could rebound from a disappointing effort, and get beyond it to success.
My favorite memory of success was my conversations with the kitchen staff at the last place we stayed. It was a research institute in the Caribbean lowlands that allows eco-tourists to stay. The birds were really great. Most of the guests spoke no Spanish. The food service was an institution style cafeteria. The food was healthy, but really boring and tastelessly prepared. I had requested some diet modifications with my reservations, which they frequently didn't understand or just made mistakes. I talked to the cafeteria staff at almost every meal, to get what I needed. They spoke absolutely no English, and were initially uncomfortable talking to me. But my Spanish broke the ice, and very soon I became their dear friend. Not only did they correctly adjust my diet, but I was getting just about any food I requested, cheerfully. The other folks at my table looked at my food, compared to theirs, and really wondered how I got such wonderful food while they were uncheerfully poking at their bland food on their plates.
Live well, eat well, speak Spanish.
¡Pura Vida!
29 Answers
The Bicolored Antbird
El hormiguero bicolor (Gymnopithys leucaspis)
On one early morning walk at the Osa Peninsula, we came upon a flock of about five bicolored antbirds, busy in the understory of the forest feeding on bugs in the leaf litter. Normally, birds like to keep a safe distance from animals (like us), but are less concerned when it's very early and they are very hungry. After we watched them for almost a half minute, most of them moved on, farther away from the trail.
One particular bird, however, did not leave. He continued to stay close, and followed us up the trail for about 20 meters! I noticed why: he was seeing new bugs appear with each of our footsteps, as we disturbed the leaf litter on the trail. I got some great photos, and he got a good breakfast.
Cattle Egrets are known to do the same thing, following grazing cows or horses in a grassy field, and getting an easy meal of bugs. I had never seen a Bicolored Antbird do this, but it's no real surprise. Antbirds don't eat ants. They get their name from the way they seek out ant swarms. When large swarms of ant begin to march, many other insects are disturbed and the antbirds feed on these revealed insects.
Okay, now, I'm hungry.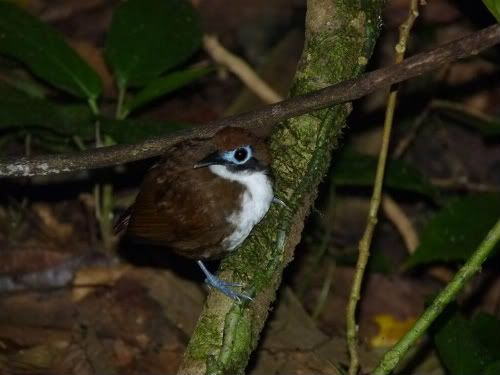 Vote
Unvote