Home

>

Q&A

>

La Palabra del Día: El significado
La Palabra del Día: El significado
DO NOT use the translator!! ¡No usar el traductor!
Work must be done by yourself.
This thread is about YOUR ability not the ability of the translator.
Post your sentences in Spanish and English, then vote for the ones you like. The best answer will be chosen tomorrow on the basis of the greatest number of votes and language correctness.
These threads are kindly moderated by Heidita. Please correct your posts according to Heidita's indications and suggestions
.
Posts which will not be corrected or accepted:
• Captions with 3 words or less
• Paragraphs with more than 4 lines
• Posts which cannot be understood it is read three or four times
• Posts which consist mainly of lyrics or idioms which do not translate.
• Captions copied directly from books or other sources.
• Multiple posts from one person, or those who don't write the sentences in both English and Spanish.
• Remember to use the Word of the Day in a typical Spanish sentence. This is great practice for you and for everyone that reads the thread to see how the Word of the Day could be used in a sentence.

Remember to correct your posts as suggested or they can NOT be "accepted".
Do not use subject pronouns in Spanish. (You'll be sent to the dunce corner!)

---
My Example:
Cuál es el significado de la vida? Para mí, creo que deberías ser amable con todos y mostrar respeto a todos, ser honesto con todos, siempre hacer lo que más puedas, y siempre hacer que lo correcto.
---
What is the meaning of life? For me, I think that you should be kind with everyone and show everyone respect, be honest with everyone, always do the best that you can, and always do the right thing.
18 Answers
A play on a quote by Laurence J Peter:
Si un escritorio desarreglado es una señal de una mente desarreglada, ¿que es el significado de un escritorio desembarazado? [¿limpiado?]
If a cluttered desk is the sign of a cluttered mind, what is the significance of a clean desk?
--¿ O, quizás? --
Si un escritorio desarreglado fuera una señal de una mente desarreglada, ¿que sería el significado de un escritorio desembarazado ?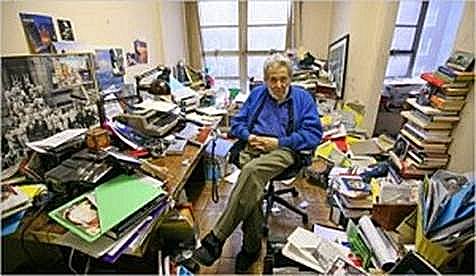 [ Nat Hentoff ]
Vote
Unvote