Kiss on the cheek when greeting
I know that it is very common in spanish culture for people to kiss on the cheek when greeting each other. Does this ever transfer over to their non-spanish friends? Or would that not be acceptable. Por ejemplo, I noticed a situation at work where a guy approached two female coworkers. He kissed one girl, who was Columbian, on the cheek and said hello. He only said hello to the other female, even though he is much closer and more acquainted with her. Just wondering.
Posted Jul 6, 2010
| 17652 views
| link
10 Answers
El beso de saludo: In Spain you must kiss everybody you're introduced to on both cheeks, whilst making loud smacking noises.. This applies to both sexes and particularly to children who are practically kissed to death. It doesn't matter if you're introduced to the hairiest monster, kiss him you must.
When you see your new frinds next time you should rush up and kiss them again..
In France you kiss other women in a quieter, more stylish fashion, el beso al aire , and men less. You shake the hand of anybody who works for you, be they the doctor or the garage mechanic.
In England we nowadays kiss family and good friends on a regular basis and it's not uncommon do it on introduction, but only on one cheek. Glasses nowadays clash a lot during British introductions. This clashing of glasses is a worse problem than beards, in fact.
Brought up, as I was, in Scandinavia where you didn't kiss anybody except during sexual relations it has been a tough learning curve. I never kissed my great aunts or or even my grandmother. We shook hands, during my childhood!
A young girl would curtsey and a boy would bow his head a little during formal introductions.
How times have changed! Now , if I visit my mother I kiss her stiffly on her cheeks. My sisters and I never touch however, even though they are a much younger than I am.. We might, in an emotional crisis pat the other on the back, very lightly. In Spain I have been patted a lot on my back by people I hardly know, when I've had an upsetting experience and Ihave found that oddly touching.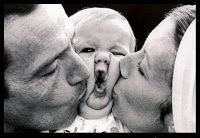 Vote
Unvote